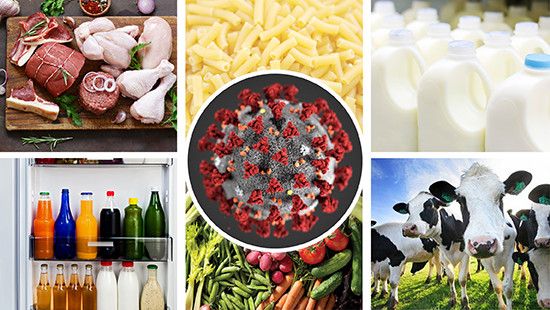 Coronavirus (COVID-19):
Resources and Practices for Food and Beverage Facilities
During the COVID-19 pandemic, maintaining safe production environments, upholding food quality and safety standards and keeping employees safe and healthy remains your top priority. With more than 1,500 Food and Beverage Field Associates and 165 technical experts globally, Ecolab is here to help you navigate through shifting operational needs during the pandemic and beyond.
Our team will ensure you are prepared with accurate and timely information on sanitation guidance and solutions, training and other plant considerations to stay safe.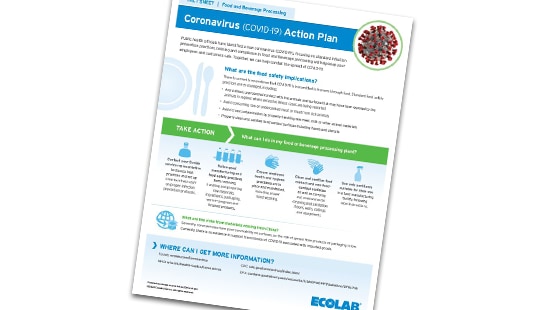 COVID-19 Dairy Farm Overview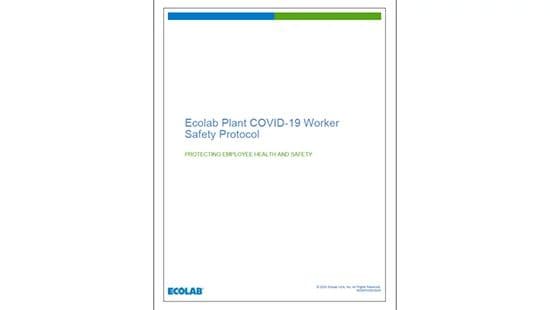 COVID-19 Plant Worker Safety Protocol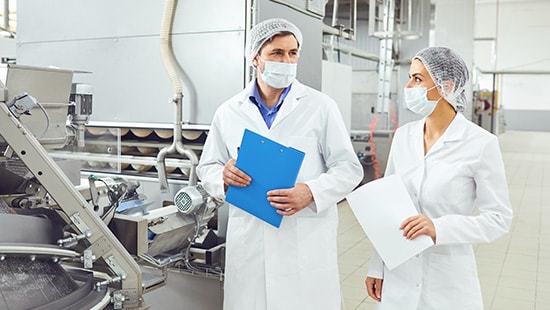 Tools To Help Mitigate COVID-19 Risk for Your Food and Beverage Facility
Factoring Food Safety Into Your Business Response Plan
COVID-19:
Cleaning and Sanitizing for Food and Beverage
Solutions and Programs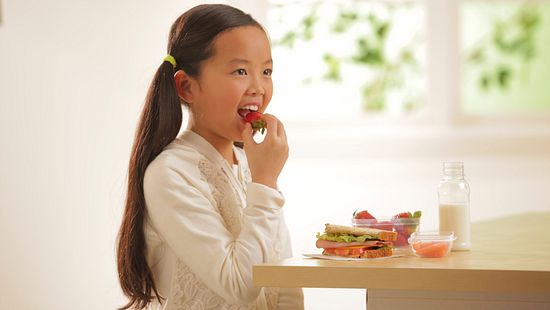 Alcohol Antiseptic 80% Topical Solution Hand Sanitizer 
COVID-19:
Cleaning and Sanitizing for Food and Beverage
Stay Up To Date on COVID-19
The situation with COVID-19 is changing daily. Ecolab is your trusted partner, providing guidance and expertise for how to help combat the spread of COVID-19 and reduce the risk for employees and customers. Complete this form to stay up to date on the most recent information on COVID-19 and opt-in to receive promotional information specific to your industry.
Learn More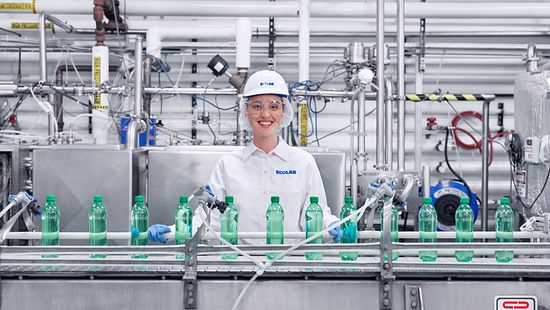 Q&A with Ecolab Experts
Ecolab experts in public health and infection prevention provide guidance to customers facing challenges from COVID-19 in their business.
Tatiana A. Lorca, Ph.D.
Food Safety and Quality Program Leader, Global Food & Beverage
Dr. Tatiana Lorca is Ecolab's RD&E Food Safety & Quality Program Leader for the Global Food & Beverage division. Dr. Lorca works regularly with customers operating food and beverage processing plants on issues related to food safety and audit compliance.
Q. Is there any evidence of transmission of the new coronavirus through foods such as meat? Or food originating in China? 
A. Public health officials do not believe that consuming food, especially meats, represent a way that coronaviruses are being transmitted. Of course, to ensure food safety, proper cooking of raw meats is important, we recommend vigilance about standard food safety practices like temperature control, proper cooking, avoiding cross-contamination, etc.  
Q. What can I do in my food and beverage processing plant to protect my employees and customers?
A. Firstly we need to recognize COVID-19 poses more of a public health than food safety risk. A key priority is reducing the likelihood of infection amongst your employees. Ensure personnel understand how to properly protect themselves and each other. Ensure personnel health and hygiene practices are implemented. Ensure you maintain a clean and sanitary production environment by following good manufacturing practices every day from start to finish. Ensure food contact and non-food contact surfaces are cleaned and sanitized.