Energy customers wanted more. Could a product Ecolab developed for fruit and veggie washes do the job?
It was 2010, and the energy industry relied on Nalco's water treatment technology for unconventional oil and gas extraction. "Fracturing injects millions of gallons of water under high pressure into a well to create micro-fractures in the rock, allowing the release of trapped oil and gas," said Vic Keasler, a research and development manager in Energy Services. "The water — from streams, groundwater and municipal systems — contains microorganisms that can produce hydrogen sulfide, a gas toxic to humans, and cause significant corrosion."
Nalco's water treatment technology was highly effective in eliminating these harmful microorganisms. But customers now wanted an antimicrobial that would work even harder — by killing bacteria more quickly, reducing the environmental impact and effectively treating water to allow for its reuse.
"Within Energy Services, there was a lot of discussion between the research and marketing teams who were trying to come up with an option for a chemistry that was effective but had a better environmental profile," said Vic.
The team began considering peracetic acid for an unusual reason. They had learned it was used to treat ballast water in ships — the water that keeps oceangoing vessels buoyant on the high seas. Peracetic acid prevented corrosion and controlled bacteria, and then allowed the water to be returned to the ocean in an environmentally safe condition.
The team found a vendor to help them provide this chemistry on a trial basis. "But we had no internal expertise," Vic said. "Everything we were doing was very slow, and probably not done in an optimal way to get the most out of the chemistry."
Just a few months later, in July 2011, they learned that Nalco would merge with Ecolab.
A peracetic acid pioneer, Ecolab holds numerous patents for this chemistry. Also called POAA, it is a key agent in fruit, vegetable, red meat and poultry washes, helping to ensure food safety by attacking pathogens, then breaking down into harmless vinegar and water. In the Healthcare business, it helps provide quick action against hard-to-kill Clostridium difficile — a major contributor to healthcare-acquired infections.
"Within a couple of days, we realized Ecolab was a POAA expert and had been using it for 15 years," said Vic.
On day one of the merger — December 1, 2011 — a team from Ecolab's Research, Development & Engineering center in Eagan, Minn., arrived in Sugar Land, Texas, ready to brainstorm with their new colleagues. "We needed both sides, because both sides brought something," said Vic.
In January 2012, the Energy Services team registered the new POAA product with the U.S. Environmental Protection Agency. And within just six months, Ecolab introduced peracetic acid technology to the energy industry. It performed beautifully, helping to kill microbes rapidly while also improving water quality and dramatically reducing water use.
The success of peracetic acid for energy customers is just one reason Ecolab is ahead of revenue projections for merger-driven innovations. But more importantly, the technology is benefiting customers and the environment.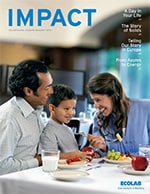 ---
This story is featured in Impact, Ecolab's global associate magazine. Download the PDF version of Impact here.