You're lounging in your hotel room or dining in a restaurant. But something's not right. The room is too hot. Or too cold.
Building managers know that keeping cooling systems at peak performance is tricky.
But a recent Ecolab innovation can help: The 3D TRASAR™ Solid Cooling Water Program, made possible by the 2011 Ecolab-Nalco merger — and the collaboration that followed.
"We have combined the best of the best to create a solution so robust that no one can mimic it," said Anja de Reus, vice president, Global Cooling Water and Latin America Water Research, Development & Engineering, who led the development team. Plus, the innovation opens a new market segment: smaller cooling systems at hotels, hospitals and other institutional settings.
How can a cooling water program help keep air temperatures comfortable? By keeping a critical component of the cooling system — the cooling tower — operating like new.
Cooling towers perform a vital function: They extract heat from the water that circulates through the building's cooling system so that it can absorb more heat and reduce temperatures.
But cooling towers are delicate. Just as the inside of a teapot turns white with mineral deposits left by water, so the inside of a cooling tower can be damaged by scale and corrosion, conditions that interfere with heat exchange and reduce effectiveness.
A vinegar-and-water mixture can help clean a teapot, but a cooling tower is more complex. It needs the right mix and amount of chemicals at the right frequency.
Getting it wrong results in wasted chemicals, poor system performance and a shorter tower lifespan.
The new program gets it right. Introduced in North America, the innovation combines Ecolab's solids and dispensing technologies with Nalco's advanced water treatment chemistry and 3D TRASAR monitoring and control.
Here's how it works:
Solid chemicals — formed into five pound (2.27 kilogram) blocks and placed in a dispenser — replace heavy plastic pails of liquids. "Institutional cooling systems are often on the roof or in other hard‑to-reach locations," said Anja. "Solids make transporting the chemistry safer and easier — and more sustainable, with fewer trucks for delivery and less packaging, which is now
3D TRASAR technology continuously monitors water quality issues that signal scale and corrosion, then provides alerts so risks can be addressed. Cooling water is treated optimally, with less labor, water and energy, extending the tower's life.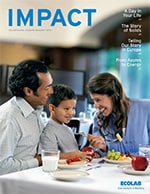 The benefits also include customer safety and savings. Marketing Director Mike Backode noted worker safety risks related to treatment chemical spills are virtually eliminated for customers who switch to solids technology. Plus, a chain of 20 hotels, each with 315 rooms, can save roughly US$330,000 a year in cooling costs.
---
This story is featured in Impact, Ecolab's global associate magazine. Download the PDF version of Impact here.