Ecolab Earns Perfect Score on the Human Rights Campaign 2018 Corporate Equality Index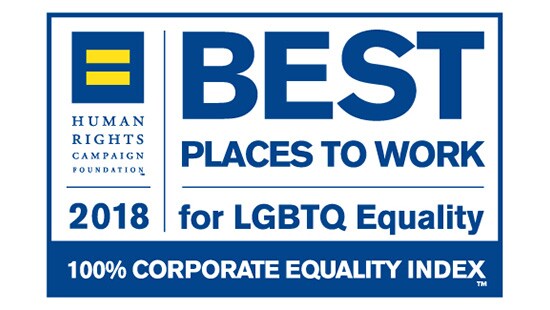 Ecolab, the global leader in water, hygiene and energy technologies and services, has received a perfect score of 100 percent on the 2018 Corporate Equality Index (CEI), a national benchmarking survey and report on corporate policies and practices related to LGBTQ workplace equality, administered by the Human Rights Campaign Foundation. This is Ecolab's sixth consecutive year with a perfect score on the Corporate Equality Index.
The 2018 CEI rated 947 businesses, evaluating their LGBTQ-related policies and practices including non-discrimination workplace protections, domestic partner benefits, transgender-inclusive health care benefits, competency programs and public engagement with the LGBTQ community. Ecolab's efforts in satisfying all of the CEI's criteria results in a 100 percent ranking and the designation as a Best Place to Work for LGBTQ Equality. Ecolab is one of 609 major U.S. businesses to receive top marks this year.
For more information on the 2018 Corporate Equality Index, visit www.hrc.org/cei.
The Human Rights Campaign Foundation is the educational arm of America's largest civil rights organization working to achieve equality for lesbian, gay, bisexual, transgender and queer people. HRC envisions a world where LGBTQ people are embraced as full members of society at home, at work and in every community.