Ecolab opens the new sales office in Surabaya, Indonesia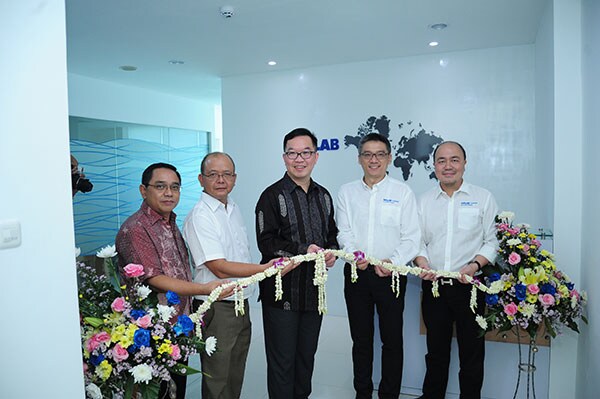 In photo: From left to right: Anton Siswobandyoko, F&B district manager; Wiweko Santosa, F&B market lead, Indonesia; Allan Yong, market head, Indonesia; Suwarno Tan, Nalco Water market lead, Indonesia; Rahardjo Hartono, Nalco Water Light sales manager, Indonesia 
Ecolab, the global leader in water, hygiene and energy technologies and services that protect people and vital resources, held an opening ceremony to commemorate its new office in Surabaya situated in the East Java region of Indonesia.
Its new workspace serves as a strategic location to house 60 associates and bring Ecolab's East Java businesses together, promoting collaborative advantages for its Nalco Water, Food & Beverage, Institutional, Pest Elimination and Textile Care services. With a strong focus on enterprise selling and forging closer customer relationships in the region, the new office was innovatively designed to include exciting opportunities to advance the Ecolab culture, enhance collaboration and more effectively leverage its team's advanced technical knowledge.
The opening ceremony was celebrated with nods to Javanese culture, from a ribbon-cutting event featuring Jasmine flowers to eating tumpeng, a cone-shaped rice dish symbolizing gratitude. Ecolab Indonesia's Market Head, Allan Yong, served tumpeng to associates as an expression of togetherness and harmony.
"Our people are our most important asset and I firmly believe we will have more opportunities to connect, share experiences, and support one other to gain more significant success in the years to come," said Mr. Yong.
Besides its new Surabaya sales office, Ecolab Indonesia has 14 other sales offices spread across the country and two manufacturing plants in West Java. Its head office location is in the capital city of Jakarta.