Nalco Champion Opens New Plant in Argentina
Located in Añelo, a province of Neuquén, the facility has production capacity of 2,000 tons of product.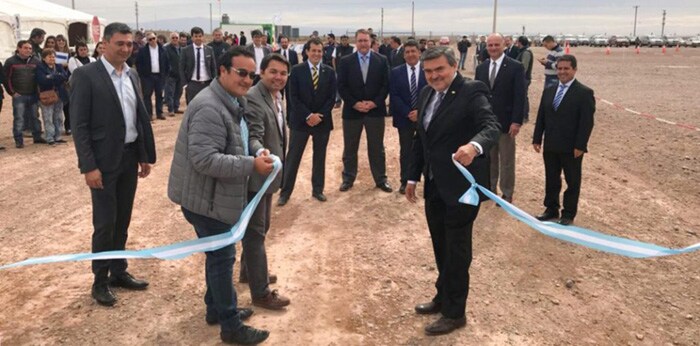 Añelo, Argentina. — With the objective of expanding its presence in Latin America, Nalco Champion, an Ecolab company, the world leader in water, hygiene and energy technologies and services, inaugurated a new operating plant in Añelo, province of Neuquén, Argentina.
The 4-hectare plant located in the Industrial Park of Añelo, on Provincial Route N°17 and Colector Añelo.
Nalco Champion seeks with this development to provide specialty chemistry and related services for upstream, midstream and downstream oil and gas customers who are looking to maximize production, protect assets and reduce operating costs and environmental impact.
The new plant is designed and built in compliance with the highest standards of safety and environmental regulations, and has extra area for future expansion to proactively respond to the growing needs of our customers.
The facility has initial capacity to store up to 2,000 tons of product and is equipped with office space, field and development operations laboratories, supplies storage, and a staging area for truck storage and product pickup/drop-off. It also has a fire prevention and security surveillance system on site, with electronic monitoring of the entire facility 24/7/365.
Services provided at the plant include: product distribution; high, medium and low pressure paving; supervision; logistics; chemical analysis; and security.
About Ecolab
A trusted partner at nearly three million customer locations, Ecolab (ECL) is the global leader in water, hygiene and energy technologies and services that protect people and vital resources. With annual sales of $14 billion and 48,000 associates, Ecolab delivers comprehensive solutions, data-driven insights and on-site service to promote safe food, maintain clean environments, optimize water and energy use, and improve operational efficiencies for customers in the food, healthcare, energy, hospitality and industrial markets in more than 170 countries around the world. For more Ecolab news and information, visit www.ecolab.com.
Follow us on Twitter @ecolab, Facebook at facebook.com/ecolab, LinkedIn at Ecolab or Instagram at Ecolab Inc.