New Ecolab Health Department Reporting Platform Helps Foodservice Operators Proactively Manage Food Safety Risks
Turns Real-Time Public Health Department Data into Actionable Insights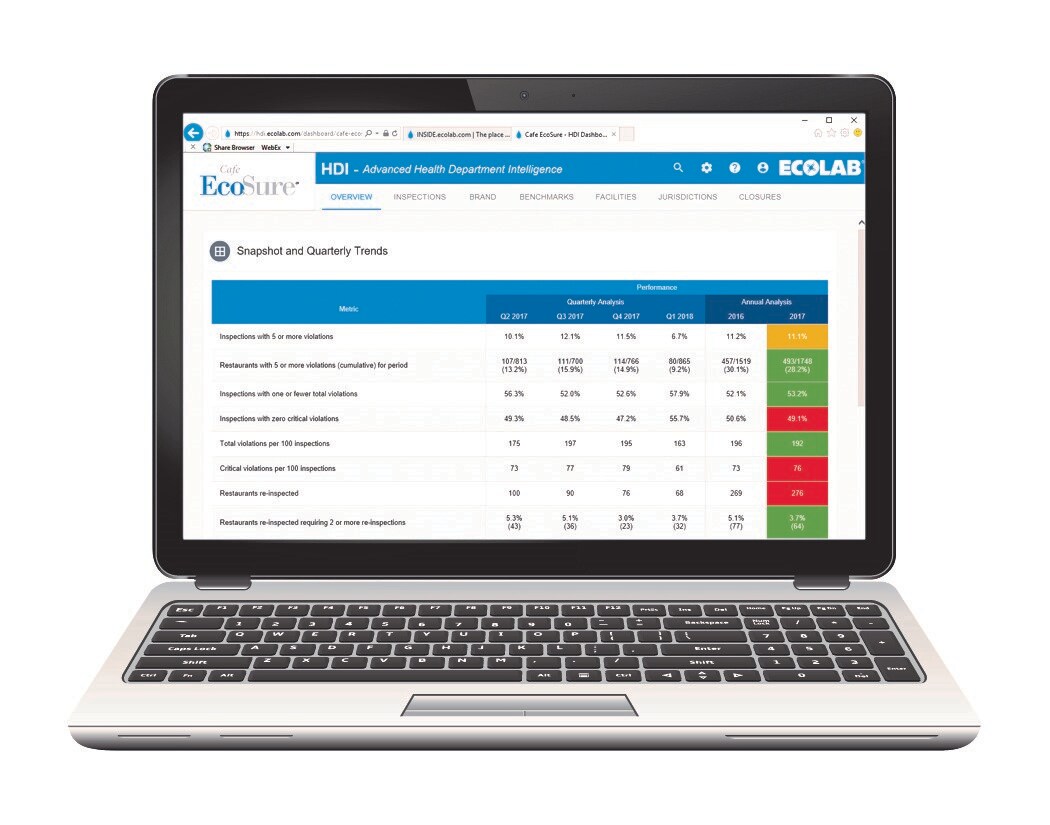 ST. PAUL, Minn.--(BUSINESS WIRE)-- Ecolab Inc. has launched an innovative new Health Department Intelligence (HDI) platform that helps foodservice operators better understand their health inspection results, improve health inspection performance, and better manage food safety risks across multiple sites.
"Our new HDI technology revolutionizes how foodservice operators can use their public health department inspection information to their advantage," said Bob Sherwood, executive vice president and general manager, Institutional North America. "We're capturing real-time information and turning that data into insights that enable our customers to more effectively and efficiently address food safety risks. It's an important milestone for food safety and an exclusive technology available from Ecolab."
Here's how this dynamic and intuitive platform works: Ecolab HDI automatically collects local health department inspections for foodservice operators, each of which can vary significantly in form and content from other public health departments. Using an advanced algorithm, the platform analyzes millions of inspection records to provide users with conformed and consistent information, thereby providing powerful insights to help customers identify, predict and prevent food safety risks across multiple sites.
With Ecolab HDI, operators can access real-time industry benchmarking data, view trends and analytics on top risks and opportunities, review performance based on locations and jurisdictions, and proactively identify where potential health department violations can be avoided.
"Our goal is to help customers establish standards, ensure compliance and drive progress at each foodservice unit, so they can run a safe and successful business," said Mike Goede, vice president and general manager, EcoSure. "The new HDI system is another Ecolab digital innovation that advances food safety and public health."
To learn more, go to www.ecolab.com/HDI.
About Ecolab
A trusted partner at nearly three million customer locations, Ecolab (ECL) is the global leader in water, hygiene and energy technologies and services that protect people and vital resources. With annual sales of $14 billion and 48,000 associates, Ecolab delivers comprehensive solutions, data-driven insights and on-site service to promote safe food, maintain clean environments, optimize water and energy use, and improve operational efficiencies for customers in the food, healthcare, energy, hospitality and industrial markets in more than 170 countries around the world.
Follow us on Twitter @ecolab, Facebook at facebook.com/ecolab, LinkedIn at Ecolab or Instagram at Ecolab Inc.
(ECL-P)
Ecolab Inc.
www.ecolab.com
Mesa Denny, 651-250-4724
MediaRelations@Ecolab.com