5 Ways Ecolab is a Catalyst for a Better World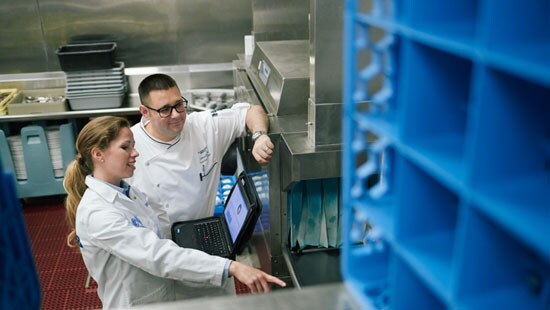 Ecolab is just one company, but through our work, we help many companies around the world, both big and small, achieve their own sustain ability goals. Read on to find out how.
Our reach is large and so is our impact
Ecolab does business in 170 countries around the world, working with customers at nearly 3 million locations. We're helping customers work more efficiently and sustainably so our positive impact on the world is exponentially larger than one would expect from a company our size.
In Ecolab's new sustainability report, "Catalyst for a Better World," we illustrate the company's customer sustainability impact in 2017. Here are some highlights:
We helped our customers manage more than 1.1 trillion gallons of water, conserving more than 171 billion gallons along the way – equivalent to the drinking needs of more than 590 million people.
We helped safely produce 25 percent of the world's processed foods, including 44 percent of the global milk supply. And we supported clean kitchens that served 45 billion restaurant meals.
Working with Ecolab, customers conserved more than 12 trillion BTUs of energy. We also helped generate more than 20 percent of the world's power and reduced the water and energy footprint of 40 percent of the world's petroleum production.
We helped clean more than 40 billion hands, more than 800 million hotel rooms and 6 million patient rooms in hospitals, and we helped hotels clean more than 110 million loads of linens.  
We help our own customers hit their sustainability targets
What do these numbers look like in the real world? In the sustainability report, we illustrate that with several case studies, based on the work we did with iconic global brands. 
Ecolab's Nalco Water business installed its 3D TRASAR™ water management technology at a Ford Motor Company assembly plant in Chicago, saving the facility 23 million gallons in just four months.
Hotel chain Marriott International used a variety of Ecolab technologies to save more than 880,000 gallons  of water and 114 KWh of electricity, while avoiding 21,500 metric tons of carbon dioxide emissions and two million pounds of waste.
At a Kraft-Heinz plant in California, we installed Clean-in-Place technology with 3D TRASAR. The system lowered sanitizer chemical use by 50 percent and helped prevent 1,800 potential food safety issues.
Partnerships make Ecolab stronger
Water covers more than 70 percent of the Earth's surface, but only 0.5 percent is available for human consumption. Two out of every five people in the world today are affected by water scarcity, and the world's population is projected to grow from 7.4 billion to 9.7 billion by 2050. If we continue on the current track, the world will see a 40 percent gap between the demand and supply of freshwater by 2030.
That's why Ecolab collaborates closely with several partners to build sound water stewardship in the places where we operate. Since its inception in 1986, the Ecolab Foundation has contributed more than $101 million to nonprofit organizations around the world, awarding $15 million in grants in 2017 alone. During that year, our employees volunteered more than 43,000 hours in their communities.
With partners such as The Nature Conservancy and the Project WET Foundation, Ecolab educates young people around the world on how to keep themselves and the planet healthy, and we work on major conservation efforts in communities in Mexico, China and our company's home state of Minnesota. 
We lead by example
 The things we do for our customers to save water and energy, we also do at our own Ecolab facilities.  
Our plants in Carson and City of Industry (both in California) were independently certified by the Alliance for Water Stewardship (AWS). In 2015, our plant in Taicang, China, became the first AWS-certified facilities in the world.
Using its existing 3D TRASAR system, our Fresno, Texas, plant reduced metal content in its wastewater so that it no longer needs to be hauled off for off-site processing.
Our Yangsan, South Korea plant found a way to reclaim the water for its cleaning processes. Thanks to this circular approach, the facility now saves more than 1.3 million gallons of freshwater per year, along with 137,000 kWh of energy and $24,800 in costs, while reducing its impact on the local watershed.  
The world is noticing
In chemistry, a catalyst is a substance that causes or accelerates a reaction. Ecolab plays that role as a business. Catalysts are added in small amounts and the same is true of us. We are one company, but we make many other companies more efficient and sustainable.
However, that doesn't mean that our work goes unnoticed. In 2017, we received several awards for our leadership, innovation and commitment to operating responsibly and sustainably. Among other things, Ecolab is one of Fortune's Most Admired Companies, one of Forbes' Best Employers for Diversity and we snagged second place in Newsweek's Green Rankings. Most recently, we were awarded the World Environmental Center's prestigious Gold Medal for Sustainable Development.