New Ecolab EHT Dishmachine Helps Restaurants Automate Warewashing; Improves Cleaning and Costs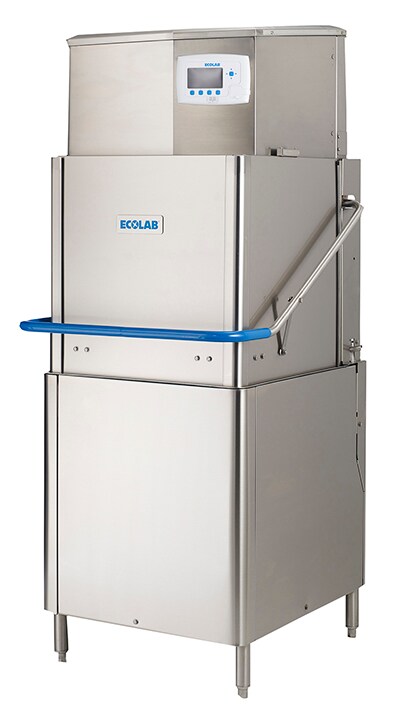 ST. PAUL, Minn.--(BUSINESS WIRE)-- Ecolab introduces the EHT dishmachine, a single-door, high-temperature dishmachine that leverages new technology to simplify and automate the warewashing process for restaurants and foodservice facilities.
"Restaurants rely on Ecolab to help keep their operations running smoothly," said Ann Mamer Lloyd, senior vice president of marketing for Ecolab's Global Institutional business. "The EHT dishmachine helps restaurants and foodservice facilities operate more efficiently by simplifying the warewash process, making it less dependent on the operator and ensuring one-pass warewashing."
The EHT dishmachine features automatic deliming, emptying and refilling of the wash tank without interrupting daily routines, and Ecolab's SMARTCYCLE™ technology automates the process of choosing the correct cycle to ensure optimum wash parameters specific to the ware type. In addition, a high-pressure rinse system helps reduce water and energy use by up to 50 percent and assures unsurpassed cleaning results. These features – combined with Ecolab's industry-leading detergents and expert service – deliver maximum efficiency and results at the lowest total cost.
"As foodservice operators continue to seek ways to provide their guests with an exceptional dining experience while managing rising costs, Ecolab's Dishmachine Program is essential to their business," said Mamer Lloyd. "Through our unique combination of the latest innovation and personalized service, customers can be confident that their warewashing operations are running at optimal efficiency. The Ecolab Dishmachine Program is a game changer for foodservice operators."
For more information about the EHT dishmachine or to schedule a demonstration, visit www.ecolab.com/EHT or call 1-800-35-CLEAN.
About Ecolab
A trusted partner at nearly three million customer locations, Ecolab (ECL) is the global leader in water, hygiene and energy technologies and services that protect people and vital resources. With annual sales of $14 billion and 48,000 associates, Ecolab delivers comprehensive solutions, data-driven insights and on-site service to promote safe food, maintain clean environments, optimize water and energy use and improve operational efficiencies for customers in food, healthcare, energy, hospitality and industrial markets in more than 170 countries around the world. For more Ecolab news and information, visit www.ecolab.com.
Follow us on Twitter @ecolab, Facebook at facebook.com/ecolab, LinkedIn at Ecolab or Instagram at Ecolab Inc.
(ECL-P)
Ecolab Inc.
Roman Blahoski, 651-250-4724
MediaRelations@Ecolab.com