TO ENSURE WATER FOR ALL, INDUSTRY MUST TAKE THE LEAD
Emilio Tenuta, Ecolab Vice President, Corporate Sustainability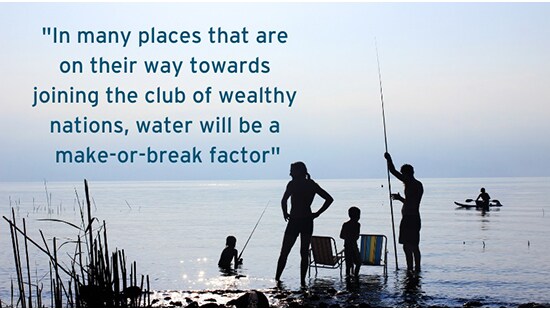 Last week, Ecolab launched the Smart Water Navigator, a free online tool that will help companies reduce their water usage at the individual facility level. That's important, because the world is facing a 40 percent gap between water demand and supply by 2030. If we want to close that gap and avoid a global water crisis, we can't do it without decisive action on the part of industry, which uses more than 40 percent of all water in developed economies and a growing portion in developing ones.
On this year's #WorldWaterDay, themed "Leaving no one behind," that may sound a bit cold and technocratic, but it really isn't.
In fact, if we want to make sure that no one is left behind, industry must take the lead and accelerate its path towards smart water management and stewardship. And yes, that will take cold calculation, upgraded hardware and big data. But the result will be a more livable world for all, where people, families and communities can thrive in the knowledge that water is not a problem.
We in the West generally tend to see water as a cheap, readily available commodity. We assume that when we turn on the tap, it'll always be there. But in many places around the world, that's far from the case.
That's because water is not the same everywhere. Depending on weather patterns, geographic conditions and human impacts, every place has its own challenges with water. And I'm not just talking about the Sahel or the Gobi Desert. In fact, in many places that are on their way towards joining the club of wealthy nations, water will be a make-or-break factor in the coming years.   
Take, for instance, Vietnam. The country is extremely vulnerable to climate-related water issues ranging from droughts and stronger typhoons to sea level rise. That's a grave danger for Vietnam's flourishing agricultural sector, which exports most of what it grows and contributes a lot to the nation's economic expansion.
But at the same time, Vietnam is in the middle of its industrial takeoff, with foreign direct investment increasing steadily and new facilities being built rapidly. That means that Vietnam has a unique opportunity to do it right the first time. Its economic growth is creating the capacity to build water-smart facilities that are resilient to climate change and don't put an extra burden on the already imperiled surrounding communities.
That's an opportunity Vietnam can seize right now. Get it right and the payoffs will stretch far into the future. And getting it right is much more likely when expanding businesses use the Smart Water Navigator and Ecolab's Water Risk Monetizer, which helps companies determine the real value of water beyond the water bill – which is often underpriced compared to the risks – and make the business case for sustainable water management.
But there's more. When we talk about water scarcity, we think first of how much water is available, but it's also about water quality. In fact, you can be surrounded by water, but still suffer from water scarcity. Just picture yourself in a lifeboat in the middle of the ocean. The point is that everybody needs enough good water.
That's why it's important to know that today, 80 percent of the world's wastewater is discharged untreated. Think of the positive impacts on nature, agriculture, public health if we could bring that number down. And it's good for industry, which needs clean water to operate and is the foundation for the growth that keeps lifting people out of poverty around the world.
Another thing we know is that only 3 percent of all water we use today is recycled. Knowing that 70 percent of the world's surface is covered in water, but that only 0.3 percent of that water is available for human use, and that the combination of economic and population growth will keep adding stress on our resources, that's an unacceptably low amount. 
The Smart Water Navigator helps with all of these things:
It helps big companies take a closer look at their facilities' water management, match the ones with room for improvement with local water scarcity and invest in upgrades where it matters most.
It creates a tailored guide for each facility, with practical action steps to build smarter water management practices. That can include things like remote sensors, digital analytics tools, and more wastewater treatment and water recycling systems.
And it emphasizes water stewardship. That means that many Smart Water Navigator users will receive advice on how to collaborate better with their surrounding communities and take care of fragile ecosystems together.   
But however well-intentioned, companies are not charities. If smart water management doesn't make business sense, it'll be slow to happen at best.
The good news is this: Smart water management does make business sense. If you use less water, you lower your water bills, power bills and greenhouse gas emissions, you make your facilities more efficient and productive, you build resilience to water scarcity and climate change, and you improve your reputation.    
In short, you put yourself in a position to keep growing, even in a water-scarce world. And when sustainability and the profit motive come together, the path to planet-friendly growth is open and fewer people end up being left behind.