Ecolab's Advanced Health Department Intelligence Program Honored with 2019 Kitchen Innovations Award
Provides actionable food safety insights to multi-unit operators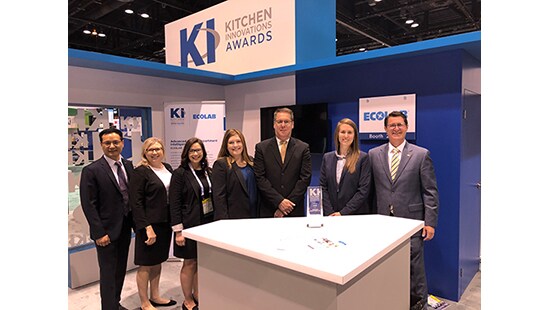 2019 Kitchen Innovation Award
ST. PAUL, Minn.--(BUSINESS WIRE)-- Ecolab Inc. has received a 2019 Kitchen Innovations Award from the National Restaurant Association for its Advanced Health Department Intelligence (HDI) program. Advanced HDI helps multi-unit foodservice operators gain greater insight into their health inspection results and helps them identify and proactively reduce food safety risks across their locations.
"Ecolab's HDI program capitalizes on advanced data analytic technologies and Ecolab's expertise in food safety provides a new and magnified view of health department activities across the country," said Bob Sherwood, executive vice president, Institutional Global Food Safety and Public Health.
Ecolab's Advanced HDI program leverages a proprietary algorithm to automatically collect health department inspection reports in real time from jurisdictions across North America. The program provides easy-to-understand dashboards and digital reports with normalized scoring and categorized findings based on millions of inspections.
Key reports include top risk areas and findings, higher and lower performing locations, industry benchmarking and systematic trending. In addition, users can set up real time email alerts related to new inspections, frequent inspections, consumer complaints, critical risks, closures and other fully customizable topics.
To learn more about Ecolab's Advanced HDI program, visit the Ecolab booth (#4000) or the Kitchen Innovations Showroom (#2440) during the 2019 National Restaurant Association Show, May 18-21, 2019, in Chicago.
About Ecolab
A trusted partner at nearly three million customer locations, Ecolab (ECL) is the global leader in water, hygiene and energy technologies and services that protect people and vital resources. With annual sales of $15 billion and 49,000 associates, Ecolab delivers comprehensive solutions, data-driven insights and on-site service to promote safe food, maintain clean environments, optimize water and energy use, and improve operational efficiencies for customers in the food, healthcare, energy, hospitality and industrial markets in more than 170 countries around the world. For more Ecolab news and information, visit www.ecolab.com.
Follow us on Twitter @ecolab, Facebook at facebook.com/ecolab, LinkedIn at Ecolab or Instagram at Ecolab Inc.
(ECL-P)
Roman Blahoski
Ecolab
651-250-4385
MediaRelations@Ecolab.com