ECOLAB'S EMILIO TENUTA NAMED TO 2019 ENVIRONMENT + ENERGY LEADER 100 LIST
E+E 100 honors the top sustainability and energy management professionals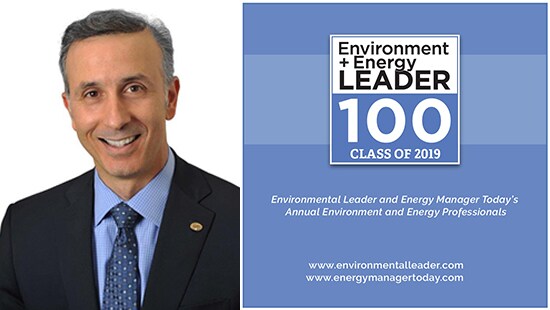 Ecolab's Emilio Tenuta, Vice President of Corporate Sustainability
Emilio Tenuta, Ecolab vice president of corporate sustainability, has been named to the 2019 Environment + Energy Leader 100 (E+E 100) list, which recognizes the top sustainability and energy management leaders. 
"We are excited to announce the 2019 Honorees and celebrate the accomplishments of this elite class," said Jennifer Hermes, content director of Business Sector Media. "The Environment + Energy Leader 100 program has doubled in growth since its inception and this year, we are thrilled to recognize one hundred honorees that helped drive a product, program, company or the energy, environmental and sustainability industry as a whole." 
The E+E 100 list is part of an annual program developed and run by Environmental Leader and Energy Manager Today.  Honorees are nominated by peers and selected based on their impact on the industry or the company in which they work. The honorees were celebrated during the fourth annual Environmental Leader & Energy Manager Conference (ELEMCON), May 13-15, 2019, at the Marriott Denver Tech Center. 
###