ECOLAB HOSTING FOOD SAFETY AND PUBLIC HEALTH WEBINAR ON SEPTEMBER 12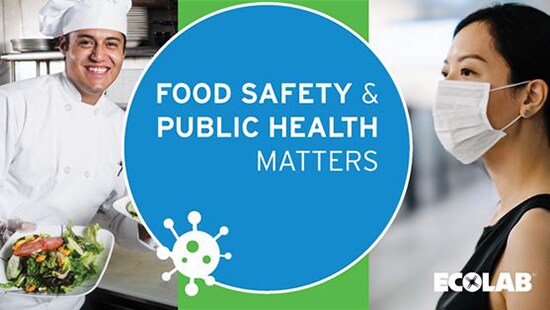 Join us for our September 12 webinar
Despite foodservice facilities' best efforts to mitigate risk and create successful business outcomes, contamination or unsafe situations may still occur. Each year, 1 in 6 Americans get sick from more than 250 different foodborne disease-causing microbes, according to the Centers for Disease Control and Prevention (CDC).
Ecolab is hosting a food safety and public health webinar on Thursday, September 12 at 10 a.m. Central Time to help foodservice operators gain visibility to some of the most overlooked food safety issues facing their facilities today.
The webinar will take foodservice operators through the journey of a holistic approach to ensuring smooth operations, a positive guest experience and cost control while ensuring every point of concern for contamination is addressed, even those that are not top of mind. Presenters include:
Ruth Petran, Ph.D., CFS, Vice President of Food Safety and Public Health, Ecolab
Cindy Rice, RS, CPFS, MSPH, President of Eastern Food Safety, Inc.
Click here to register for this free webinar, or sign up for future Ecolab webinars
###