Ecolab-backed Startups Pitch Their Innovations at Demo Day
Backed by Ecolab and Cargill, the Farm to Fork Accelerator program brings together startups that are focused on improving the global food supply chain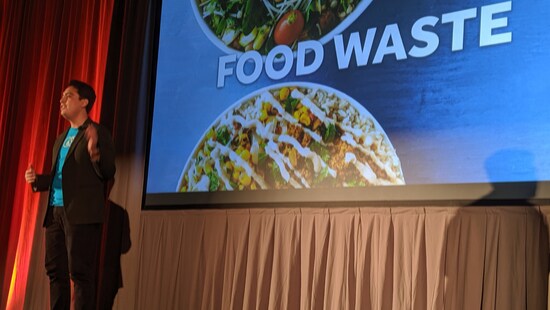 At Demo Day last night in St. Paul, Minn., home of Ecolab's Global Headquarters, 10 startups in this year's Techstars Farm to Fork Accelerator program pitched their businesses to an audience of more than 400 investors, business leaders and entrepreneurs. 

This startup cohort is the second Techstars Farm to Fork Accelerator class. Backed by Ecolab and Cargill, the Farm to Fork Accelerator program brings together startups that are focused on improving the global food supply chain, including food safety and security, minimizing food waste, reducing energy use and supply chain management. The startups receive mentor support from Ecolab and Cargill executives and access to the companies' market expertise, global connections and investment capital. 

At the close of this year's program, the accelerator will have graduated 19 startups. Five of this year's companies will be continuing exploratory and pilot work with teams across Ecolab into 2020. Alumni of the accelerator – such as Big Wheelbarrow, Spoonshot and TradeLanes – have raised millions of dollars in investment capital and launched pilots and beta programs with global food manufacturers. Three of the startups also have relocated to Minneapolis-St. Paul, home to Ecolab and Cargill's headquarters, helping to grow the startup community in the region.

"To solve the world's toughest challenges, we need fresh thinking and a nimble approach," said Katie Peterson, Ecolab vice president of Marketing and the Ecolab corporate liaison. "The agility and entrepreneurial spirit of this year's startup class, combined with the scale and global mindset of Ecolab and Cargill, is sparking new ideas and opportunities to make a positive impact on the food system."

In addition to accessing disruptive ideas and technology through the accelerator, the Ecolab team has benefitted from seeing firsthand how startups operate. 

"More than 40 Ecolab leaders participated in this program as mentors to the startups, helping them navigate risk, pivot based on market feedback and build open and dynamic cultures," said Sam Hsu, Ecolab executive vice president of Strategic Planning and executive sponsor of the Techstars partnership. "We've learned a lot from the startups' agile mindsets and are inspired to look at opportunities differently in our own businesses." 

"When I speak to the Ecolab team about our Techstars partnership, they are energized, curious and eager to participate. Our employees believe in our company's purpose to make the world cleaner, safer and healthier, and we value partnerships like the one we have with Techstars to strengthen our commitment to innovation and increase our impact," said Peterson.