Ecolab Named a 2019 Corporate Champion by Women's Forum of New York for Board Diversity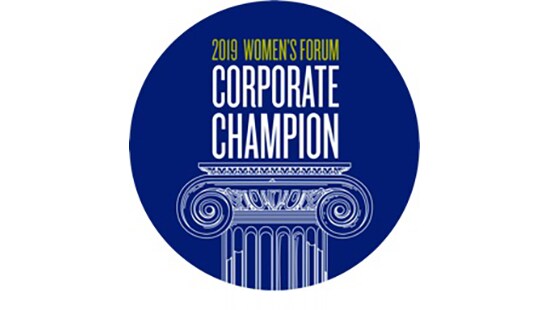 2019 Women's Forum Corporate Champion
Ecolab Inc., the global leader in water, hygiene and energy technologies and services that protect people and vital resources, was recognized as a 2019 Corporate Champion by the Women's Forum of New York for the company's progress in driving gender parity on its board of directors.

"We recognize the strategic advantage of a gender-diverse board as we continue our work in building a more diverse and inclusive workplace," said Ecolab Chairman and CEO Douglas M. Baker, Jr. "When we bring in diverse perspectives and experiences on our board – and on all of our teams – together we'll make better decisions that fuel greater innovation, stronger performance and faster growth in the future."
As part of its ongoing commitment to increasing diversity and promoting an inclusive culture, Ecolab's board governs the company's D&I strategy and reviews diversity progress on a quarterly basis. Additionally, the company's Executive D&I Council and other top leaders review progress for their respective businesses, functions, markets and regions monthly, with growing emphasis on taking specific action to drive improvement and engagement across teams. 

In addition, Ecolab's large and thriving community of employee resource groups (ERGs) promote inclusion through programming, events and learning and development opportunities for employees. With 25% growth in global membership in 2018 and strong sponsorship from Executive D&I Council members, Ecolab's ERGs are growing their impact with employees while driving progress for the company.
Of Ecolab's 13 board members, five are women: Shari L. Ballard, Barbara J. Beck, Tracy B. McKibben, Victoria J. Reich and Suzanne M. Vautrinot. 
For more information on Ecolab's progress and commitment to diversity and inclusion, visit
Ecolab.com/diversity
.