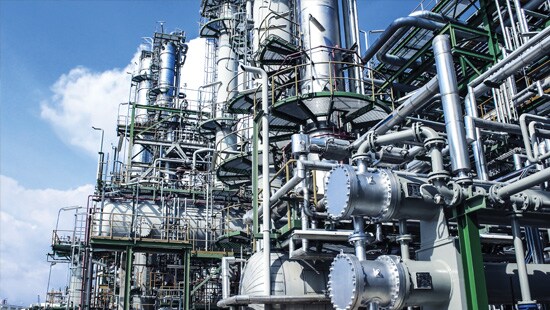 Diagnostic and Consulting Services for Refineries
Quantum Technical Services, a Nalco Water Company, provide diagnostic, troubleshooting and consulting services to the industrial market. Our highly experienced technicians, engineers and consultants provide the highest level of expertise and service while optimizing your performance and supporting your business needs. Our strategically positioned personnel are ready for quick response to your location.
Improve Refinery Performance with Quantum Technical Services
MONITORING
Infrared Thermography - Used to troubleshoot process equipment by analyzing surface temperatures.
Radioactive Material Monitoring & Radiation Safety - A complete line of radiation safety services to meet your operating and regulatory requirements, plus the expertise to help you navigate today's regulatory environment.
Cooling Water Heat Exchanger Performance Monitoring - Recommendations that improve your operation's reliability and profitability based on thorough understanding of heat exchanger system stresses.
High Efficiency Cooling Tower Fill Monitoring - Patented tower scans on high efficiency cooling tower fill that quantify fouling risk and monitor the effectiveness of your chemical treatment program.
DIAGNOSTICS
Tower Scans - Identify both mechanical abnormalities and process problems on packed and/or plate towers. Scans are performed while the tower is operating to spot the issue while problems are experienced.
Gamma Scan Technology - Diagnose a vast amount of operational and mechanical issues. Our crews provide quick response for critical troubleshooting.
Helium Leak Detection - Most of the equipment used in industry today needs to be vacuum or pressure leak-tight to meet operating and safety demands. A helium leak detector with a mass spectrometer is the most efficient and accurate method available to test for leaks.
Tracer Studies - Troubleshoot numerous operational issues, from detecting a heat exchanger leak to measuring flow rates, conducting a flare study or performing an FCC study. We provide the data to help you make better operational and maintenance planning decisions.
AUDITS
Cooling Water System Reliability Audit - Systematic, total system approach to evaluating your cooling water management. Quantum's data-driven process examines the mechanical, operational and chemical components of your system.
Cooling Tower Efficiency Study - Identify ways to optimize heat transfer, improve cooling tower performance and prioritize maintenance work items to get the most out of your cooling tower.
MODELING
The Total Water Modeling Service - Growing water scarcity, diminishing water quality and increasing government regulations are causing the industrial market to search for practical and cost-effective water conservation solutions. Quantum Technical Services is ideally qualified to develop a detailed map of your current water usage and provide insightful recommendations to meet your water conservation goals.
Crude Preheat Energy Management - The fouling of heat transfer equipment results in higher energy, maintenance and capital equipment costs and can also lead to reduced throughput rates. Quantum can help you monitor fouling trends in critical heat exchanger networks and model the effects of proposed remedial actions on run-up temperatures, furnace duties and profitability.