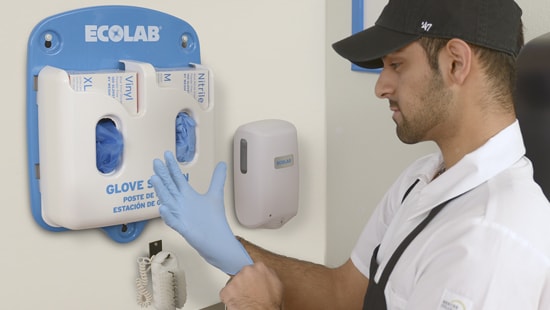 Food Prep Gloves
Uphold food safety standards and ensure that your employees have all the necessary tools to observe proper food safety protocols while preparing and handling food. Our selection of disposable food prep gloves is available in a variety of sizes, fits, textures and quantities to make food preparation hygienic and economical each time.

Food prep gloves come in nitrile, vinyl and poly materials. They are made to be flexible for greater dexterity and increased fingertip sensitivity for precise work with food. Gloves are powder-free and latex-free to avoid slipping.

We also offer glove box storage stations, which will make locating gloves for food preparation easy and keep ready when needed. They are designed in compact resistant plastic for heavy commercial use. Food safe glove stations are wall mountable and can be conveniently located around a commercial kitchen.