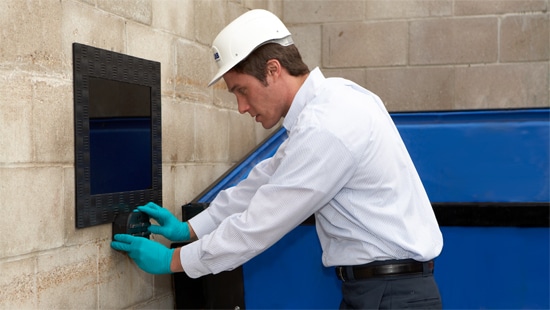 STEALTH™ Fly Station
STEALTH™ Fly Station's dark, reflective device attracts and discreetly eliminates flies on the exterior of facilities and helps reduce flies entering facilities by up to 50%.
STEALTH™ Fly Station Attracts Flies
The proprietary STEALTH™ Fly Station is a key element in Ecolab Pest Elimination's Large Fly Program. This award-winning, innovative technology utilizes multiple stimulating characteristics to attract flies prior to entry into a facility.
The wall hanging panel and attractant is a unique design that works effectively during daylight hours to attract and eliminate large flies. It's best positioned in strategic locations on the exterior where large flies congregate such as near garbage areas and dumpsters. The STEALTH™ Fly Station decreases large fly activity on the exterior reducing fly pressure on the building. The result is fewer flies inside, up to 50% at some locations. This innovation also reduces the amount of pesticide needed on the exterior by focusing application to a small, attractive station placed where flies are concentrated rather than broadcast applications to walls and other exterior surfaces.
The STEALTH™ Fly Station received the National Restaurant Association's Kitchen Innovation Award in 2012.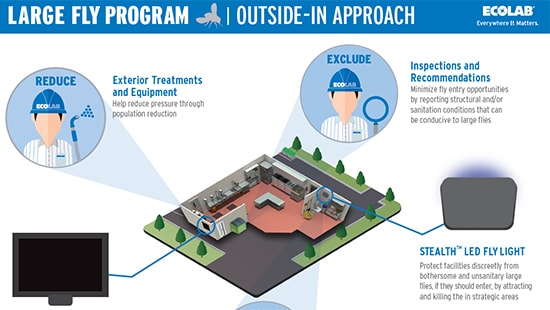 Benefit of Outside-in Approach
Our Pest Elimination Offerings
Learn more about all our Pest Elimination offerings
No related pest elimination offerings were found.