ECOLAB JOINS INDUSTRY LEADERS TO SUPPORT RESTAURANT EMPLOYEES IMPACTED BY COVID-19 PANDEMIC
Ecolab joins others in supporting the National Restaurant Association Educational Fund to provide financial support to restaurant employees facing hardship due to COVID-19 pandemic.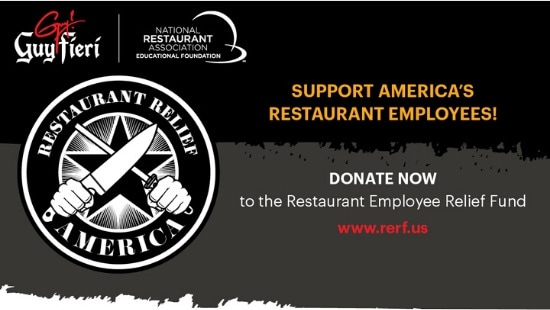 Ecolab Inc., a global leader in food safety, has partnered with the National Restaurant Association Educational Foundation to support the Restaurant Employee Relief Fund (RERF), which will provide financial assistance to U.S. restaurant workers impacted by the COVID-19 pandemic. A nationwide fundraising drive for RERF is being led by celebrity chef Guy Fieri.
Through RERF, grants will be made to restaurant industry employees who have decreased wages or lost employment due to the pandemic. One hundred percent of all donations to RERF will go directly to restaurant workers in need.
By providing financial support and raising awareness of the RERF, Ecolab is continuing to support the restaurant industry and its workforce during this difficult time. In addition to Ecolab, other founding partners of the RERF include PepsiCo, Uber Eats, Constellation Brands, Moët Hennessy USA, Cargill, Boston Beer Company, Shift4 Payments, P&G Professional, The Elliot Group, Davis Wright Tremaine LLP and the Light Foundation.
About the RERF
The Restaurant Employee Relief Fund was created to help restaurant industry employees experiencing hardship in the wake of the coronavirus disease (COVID-19) pandemic. Through this fund, grants will be made to restaurant industry employees who have demonstrated adverse financial impact due to COVID-19, whether through a decrease in wages or loss of employment. These grants will be made on a first-come, first-serve basis, subject to availability of funds. This Fund is operated by the National Restaurant Association Educational Foundation, whose mission is to attract, empower and advance today's and tomorrow's restaurant and foodservice workers. Applications for grants will be accepted starting April 2 on a first-come, first-serve basis. To donate, apply for a grant or learn more, visit https://rerf.us/