Ecolab's Lisa Maloney-Vinz selected as Business of PRIDE honoree by Minneapolis/St. Paul Business Journal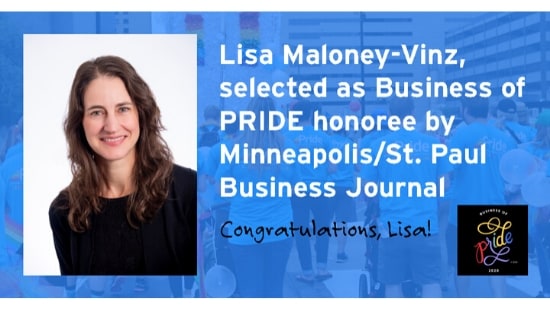 Lisa Maloney-Vinz, Ecolab director of global community relations, has been selected as one of the Minneapolis/St. Paul Business Journal's 2020 Business of PRIDE honorees. The third annual program recognizes Twin Cities business community members who are strong LGBTQ+ equality advocates for their companies and communities. Business of PRIDE award recipients were determined by success in their careers, community support and visible advocacy for inclusion and equality. 
Maloney-Vinz is an integral part of Ecolab's global community relations team and is responsible for Ecolab's grant-making and its global giving site, which is available to the company's 50,000 employees around the world. A founding member of Ecolab's PRIDE employee resource group (ERG), she was recently named one of the company's 2020 Leaders Who Make an Impact in honor of International Women's Day and was recognized by the PRIDE ERG for her work to "Make PRIDE Happen" through her leadership over the past 10 years.
View the complete Minneapolis St. Paul Business Journal's 2020 Business of Pride article
here.