E-Enabling Your Pest Service
The Pest Monitor Newsletter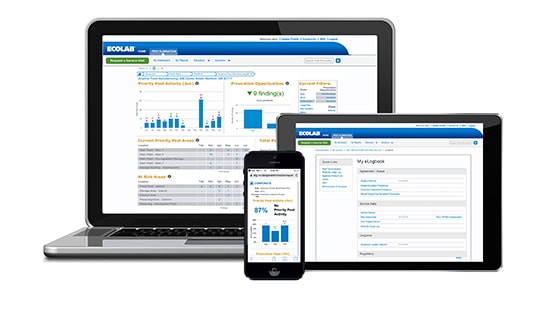 Technology is disrupting and transforming businesses around the world, and the food and beverage industry poses no exception. Implementing technology throughout your business and services enables you to track trends for predictive analytics and actionable insights, keeps your documentation comprehensive and accessible, and helps ensure you're ready for your next third-party or customer audit or regulatory inspection.
Most food and beverage companies understand that they need to keep up – or get left behind.

2/3 of F&B companies are increasing their tech spending.
2/3 of successful F&B companies already use Big Data.
1/3 are planning to make additional investments in Big Data/analytics.
Despite these increases, companies don't always consider all the applications for which technological advancements and innovation can help in gaining an edge… such as the use of an electronic logbook in your pest elimination service.
Through information entered by the pest elimination service specialist, electronic logbooks enable companies to easily access pest and service information, spend less time preparing for audits, get actionable insights to reduce pest risk, and have the peace of mind that comes with being fully informed and prepared.
Electronic logbooks can provide food processing facilities with numerous benefits, and the most advanced technologies:
Provide a secure, password-protected portal that is accessible 24/7 from the desktop, tablet, or mobile devices.
Are designed to meet third-party standards and federal regulations with the needed electronic documents easily accessible and printable.
Are well-organized, enabling easy access to the agreement and scope of services, service data, equipment location diagrams, regulatory documents, certifications, safety data sheets, etc.
Provide long-term trend and prevention opportunities reporting and predictive analytics with year-over-year comparison options for all or specific pest(s).
Document pest counts at scannable traps and any facility areas with specific pest pressures so preventive action can be taken.
Connect trends, alerts, and predictive insights with recommendations for prevention opportunities, enabling the facility to proactively reduce pest risk.
Provide a comprehensive summary with detailed findings, dynamic trending data, and an overview of the pest program performance.
Today's technologically advanced pest elimination service providers not only take care of any pest issues but also put a digital tool – with all your pest, service, and preventive and corrective action information – at your fingertips, taking pest worries off your plate, and enabling you to focus on the food you produce.