Infection Prevention: What to Look for in a Vendor Partner
Linda Homan, RN, BSN, CIC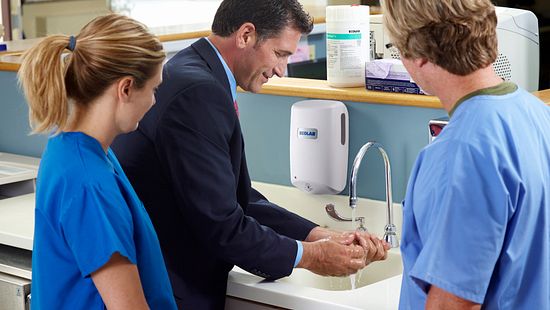 When it comes to infection prevention, we all want a silver bullet, a quick fix that cuts through complexity and provides an immediate solution to a problem.  In truth, there is no silver bullet, but there are fundamental infection prevention measures that are proven to be effective in reducing healthcare-associated infections, such as hand hygiene, environmental hygiene, and instrument reprocessing.
In 2010, Wenzel and Edmond introduced the concept of horizontal and vertical infection prevention measures.1 Vertical measures are pathogen-based, reducing infection or colonization caused by specific pathogens in selected patient populations. They are often higher cost interventions as they may involve a microbiologic screening test, and they often are more resource intensive. Examples of vertical interventions are nasal decolonization to prevent transmission of MRSA, MDRO active surveillance and isolation precautions all of which are labor intensive and add cost to patient care. Horizontal measures are already part of routine patient care, are applied to all patients and are equally effective against superbugs as they work against garden-variety organisms.
Horizontal measures are generally less costly than vertical interventions and are consistent with patients' need to avoid all infections, not just those due to specific organisms.2 The challenge is that horizontal measures often require modification of the day-to-day behaviors of healthcare workers, which means they are more difficult to sustain. They require ongoing education and feedback around a standardized process and buy-in from healthcare workers themselves in order to consistently practice the desired behavior. Hand hygiene, environmental cleaning and disinfection, and instrument reprocessing are horizontal measures and they include not only efficacious products, but also evidence-based processes and diligent practice by healthcare workers.
Product + Process + Practice = Sustained Performance Improvement
When it comes to horizontal infection prevention measures, it is not enough for vendors to offer a product and make a sale. Vendors should be held to a higher standard – they should be vendor partners. A vendor partner is an extension of your team and an asset to your hospital's success.  They are a partner who works with you from identifying a need and supplying a solution, to implementing and sustaining improvement with your facility's team. It is not transactional, and it is not just a product.
Why should hospitals expect this level of service from their vendors? Because healthcare is complicated and changing quickly. Hospital margins are being pinched. Staff are being asked to do more with less.  There are emerging pathogens that are threatening patient safety. A vendor partner's goal should be your ongoing success as a healthcare provider – sustained performance improvement.  But, in order to succeed in this new healthcare environment, we must move past that transactional relationship to a partner relationship that holds vendors to a higher standard and makes them part of a holistic, long-term solution.
A good vendor partner will provide:
A strong business case to help stakeholders understand the value of the solution
Data and actionable insights that are easy to understand and drive continuous improvement
Education in a variety of formats and languages
Timely and comprehensive on-site service
A solution that easily integrates into existing workflows
Onsite customer support to ensure a solution's success
They must also be willing to partner with customers to standardize processes and improve healthcare worker practices. This requires evidence-based protocols, education and objective performance feedback so that hospitals understand exactly how they can make improvements.  It's a partnership that addresses not only at the product, but the processes and practices that will deliver performance.
I have worked on the business side of infection prevention for many years, but prior to that I was a practicing infection preventionist, certified wound care specialist and nurse manager for just as many years.  In the infection prevention and wound specialist roles I worked with many vendors.  Some were transactional – they would try to sell me something and, once sold, walk away - no educational support, no follow up, no ongoing connection. Others were more focused on establishing trust and partnership.
One of the most influential people in my career in those days was a sales representative for a wound care company.  She was a wound, ostomy continence nurse herself prior to going into sales, and she taught me a lot -- not just about the dressings she was selling, but about wound care itself. She encouraged me to gain expertise that enabled me to take the exam to become a certified wound care specialist, which I did.  I went on to become an infection preventionist and, recognizing the value of certification, quickly became certified in infection prevention and control.
The point of this short autobiographical sketch is to highlight the different approaches that manufacturers and their representatives have toward the customer.  Some are transactional, some are partners.  My wound care sales representative wasn't just selling me a product, she was a consultant, providing me with the tools and information I needed to help my team improve patient care. Depending on what you are purchasing, either approach might be right.  If you are purchasing tongue depressors, a transactional approach makes sense.  However, if you are purchasing something more complex that needs to fit into your facility's workflow, such as a product or service that has an impact on patient outcomes and hospital margins, then a vendor partnership is in order because they will help you see blind spots and opportunities for improvement and help you incorporate them into your facility's operations.  It is another set of eyes, a helping hand, a partnership.  It makes sense.
Here are some things to look for in a vendor partner throughout the sales cycle:
Pre-sale
Before vendor partners suggest a solution, they should ask you about your facility.  They should be listening to you and your challenges – problems that you're trying to solve but haven't been able to yet.  Once they understand your operations, only then can they suggest solutions that can meet your needs.  They should also be asking you about your facility's demographics such as:
Basic facility statistics (size, beds, etc.)
Facility ratings
Publicly available infection rates
Patient population in your hospital
Hospital and system strategic initiatives
Before asking for your business, vendor partners should provide you with strong, evidence-based resources to support their products.  You don't need to see clinical studies to decide which tongue depressor to buy, but, if the vendor is claiming to improve patient outcomes or operational efficiency, evidence is needed.  Here is an example: not all efficacy claims need to be supported by a randomized, controlled trial.  If a disinfectant has an EPA claim as a sporicide, a clinical study to prove that it kills spores is not necessary because EPA registration ensures that the product kills spores.  The claim that the same sporicide reduces C. difficile infection rates when used as part of an overall environmental hygiene program, however, should be substantiated by clinical evidence.
Vendor partners should also be sharing their knowledge of industry trends. They focus on emerging issues and technology in their area of expertise and can help you "see around the corner" so that you're prepared for what is coming next.
Some products and services require a trial before deciding to purchase.  While your hospital may have unique circumstances to take into consideration, a strong vendor partner has a well-defined process to ensure an effective trial that can account for your circumstances.  They will also have the resources (product, tools, training and people) to support the trial so that you aren't taking on all the work by yourself. Remember, their job is to make your work better.
Before a trial begins though, it is critical that you and the vendor partner agree on metrics for success.  The success criteria should be objective, measurable and achievable within the timeframe of the trial.  For instance, while a product may help reduce healthcare-associated infections, the outcome measure of infection rate reduction is not measurable within the timeframe of a one-month trial. Rather, evaluate the process measure.  During a trial for an electronic hand hygiene compliance monitoring system, one can measure the impact of the system on the process measure of hand hygiene compliance, but not the outcome measure of HAI reduction – that simply requires more time.
Value Analysis
Vendor partners help provide you with talking points for key conversations with hospital stakeholders by anticipating what questions will be asked, knowing stakeholder priorities, and providing appropriate data to share.
Once you've decided to take a product to the value analysis committee, vendor partners can help you prepare messaging that presents your case convincingly and helps stakeholders understand why they need to take your recommended actions.  They do this by helping you:
Target your message to the audience. Top priorities for a c-level executive are different than those of clinical staff, for instance, and top priorities for a CEO are not the same for CFOs or COOs 

Make strong comparisons. Compare the value of the solution you are recommending to what is currently being done

Bring the evidence. Provide well-supported research, studies, and other data that support your recommendation and resonate with your stakeholders
Implementation
The collaborative vendor partner's work is just beginning once the product has been approved for purchase.  Work with your vendor partner to map out the implementation timeline and process.  They should provide in-person education and training along with leave behind train-the-trainer resources for you to use when training new employees or providing refresher training.
And, because it's difficult to measure or make improvements without good data, digital technology plays an increasing role in this space because it provides hospitals with actionable insights that they can use for continuous improvement. Vendor partners should provide comprehensive training on the collection, analysis and reporting of any insights that are derived as part of the product or service.
They will also help you evaluate what's working and make contingency plans for addressing results that aren't what you expect.
Ongoing Support and Partnership
Ongoing support and partnership are key deliverables from a vendor partner. The relationship doesn't end with a purchase.  Vendor partners should review data, provide education, follow up and service on a regular, mutually agreed upon cadence to ensure that you're reaping the benefits of said solution.  This is especially important when the solution being implemented is intended to drive behavior change such as hand hygiene or environmental hygiene compliance – it simply doesn't happen overnight. It is a process that is optimized over time to accommodate your facility's evolving needs.
Conclusion
When solving for complex issues that require behavior change, hospitals should be looking beyond products for a more holistic and long-term solution.  Hospitals can improve results by partnering with vendors who work alongside them to develop lasting, customized, and programmatic solutions that address their specific needs.  Something I think hospitals expect, but shouldn't, is that improvements will fade (regress to the mean) over time.  In fact, they should expect and be armed with the products, processes and practices that will continuously improve their performance over the lifetime of the solution.
Change can be hard, especially when it involves adjustments to behavior, but with the right vendor partner it is possible for hospitals to make comprehensive and sustainable improvements to horizontal measures that impact clinical and operational outcomes, while also cultivating the financial wellness of the hospital. Products alone simply don't cut it anymore – hospitals can and should expect more from their vendor partners.
Linda Homan, RN, BSN, CIC, is senior manager of clinical affairs for Ecolab Healthcare.
This article originally appeared in the February 2020 issue of Healthcare Hygiene magazine.
References:
Wenzel RP, Edmond MB. Infection Control: The case for horizontal rather than vertical interventional programs. Int J Inf Dis 2010; S3-S5.
Edmond MB, Wenzel RP. Screening Inpatients for MRSA — Case Closed. N Engl J Med 2013; 368:2314-2315.