Preparing for Surgery: The Importance of Pre-Cleaner And Its Application Methods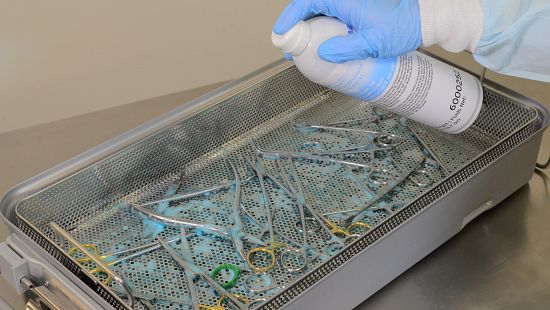 As the number of COVID-19 cases flattens, elective surgeries will resume. This is a good time to reevaluate the effectiveness of your instrument reprocessing department to ensure surgical procedures can be completed on-time without delays from instrument cleaning rework.
A critical, but sometimes underestimated, step in processing surgical instruments is point-of-use treatment in the OR to remove gross soil from instruments and prevent organic soils from drying.  This is an important step because when instruments are delivered to the central sterile department after surgery, dry soils can be difficult to remove by routine cleaning procedures and may interfere with disinfection or sterilization.
Instrument pre-cleaner sprays are commonly used for this point-of-use step, but there are concerns that over time, the repetitive action of squeezing a trigger sprayer could lead to user fatigue and, in serious cases, injury from musculoskeletal disorders.
Ecolab evaluated the ergonomics risk factors associated with the use of pre-cleaner products packaged in either a trigger sprayer or bag-on-valve (BOV) pressurized canister.
The study found that the amount of force required to activate the pre-cleaner products differed based on the product formulation and sprayer type and that both the chemistry and type of spray technology (trigger sprayer and BOV) play a role in user experience and overall ergonomics of pre-cleaner products.
As hospitals asses the efficacy of their instrument reprocessing, they should holistically evaluate the products being used and their packaging to determine which point-of-use treatment supports their
processes and staff best.
Download the study to learn more