The Personal Care Industry: Challenges in Cleaning, Part I
By Marcel Korevaar, Thomas Altmann, Kevin Nyssen
In a market driven by innovation, where every year a quarter of all cosmetic products are new or improved versions, personal care manufacturers strive to define and implement suitable cleaning and disinfection procedures, especially when dealing with a high number of different formulations in one site.
The personal care industry produces a large variety of consumer goods used for beautification and personal hygiene (for example, products for skin and hair care, personal hygiene, fragrances, sunscreens, and make-up). All of these segments have similar cleaning challenges, equipment designs, and regulatory requirements.
The optimization of the cleaning process is critical for decreasing operational costs, downtime and for achieving the sustainability goals set by the company (such as the reduction of water, chemistry, and energy consumption).
The aim of this article, first in a two-part series, is to illustrate the cleaning challenges commonly faced by cosmetic manufacturers, as well as the requirements of the industry. In the second part of the series, an initial guidance on how the cleaning and disinfection procedures can be optimized will be provided, from the choice of chemistry, to the correct setup of the equipment available on site, and all while compliant with the requirements set by the industry.
1) Understanding the cleaning challenges and the requirements of the industry
As of today, one of the main challenges for manufacturers of cosmetics is to keep manufacturing operations efficient in a constantly evolving scenario:
"On average, large industry companies have a product portfolio of around 10,000 different cosmetic products and reformulate around 25% to 30% of their products every year. Out of these reformulations, about 10% depend on ingredients that are new to the market or to the cosmetic industry. Large companies introduce around 80 new ingredients to their product portfolio each year"1
On top of this never-ending innovation, the growing demand for multi-functional premium cosmetics is a trendsetter that implies an increase in the complexity of the formulations, making things harder for the producers when it comes to defining an optimized cleaning procedure (see paragraph 1.1, for a description of the main hard to clean ingredients).
Another important market trend that is impacting the choice of cleaning products in the personal care industry, is the promotion of eco-friendly and biologically derived cosmetic ingredients. Besides being necessary to achieve certain natural or organic claims on the final cosmetic product, an eco-friendly detergent can also be key for the achievement of the sustainability goals of the company, as a growing number of industry leaders are looking for innovative ways to become more sustainable.
Lastly, for many multinational companies, setting a global cleaning strategy is important to better control the quality of the final goods. Although a vast number of personal care products are produced globally with similar raw materials, local manufacturing sites often produce cosmetic products that are specific to a geography. Therefore, the manufacturing locations might have different soils to clean as well as different equipment and limit settings, so not all cleaning solutions can be used identically on a global basis and must be optimized locally.
Other regional differences in cleaning validation may be applicable whether the cosmetic product meets the FDA definition of both a cosmetic and a drug, and if it's intended to be sold in the US; antidandruff shampoos, toothpastes with fluoride, and makeup marketed with sun-protection claims typically fall into this category.
1.1) Hard to clean ingredients and requirements
In the following section, different groups of ingredients commonly used in the industry are represented, as well as some recommendations for the cleaning agents to be used. Within these groups, new combinations or even new substances with similar features are often developed.
Waxy Soils
Large amounts of waxy soils inhibit the effect of aqueous cleaning on the soil due to their hydrophobic nature. As they repel water, a tenacious oily or waxy (fatty) layer can form on the surface of large areas and product residues can be left behind. Cleaning is performed using the synergistic action of wetting surfactants, in particular, (improving penetration into the soil) and co-surfactants, which allow solubilization. The combined effect of the ingredients favours the dispersion of the fatty and viscous phases.
---
Waterproof Lipstick:
Fig. 1 Stainless steel coupons to compare cleaning performances of a nonspecific detergent and a detergent formulated specifically for removing waxy soils.
---
Silicone
Although some silicones are easily cleaned, numerous products on the market are formulated to be extremely hydrophobic. This makes for great water-proof products but at the same time makes it harder to clean those products from equipment surfaces. Cleaning is achieved using a selected mixture of surfactants.
---
Deodorant Stick with Silicones:
Fig. 2 Stainless steel coupons to compare cleaning performances of a nonspecific detergent and a detergent formulated specifically for removing silicone based products.
---
High Pigment Loads
Many pigments are based on inorganic materials such as iron oxide. Although they provide beautiful colors, they can leave behind residues or a thin film of powder on equipment surfaces that is difficult to remove chemically. Effective cleaning is achieved through the synergistic action between surfactants and chelating agents.
---
Pigmented Sunscreen: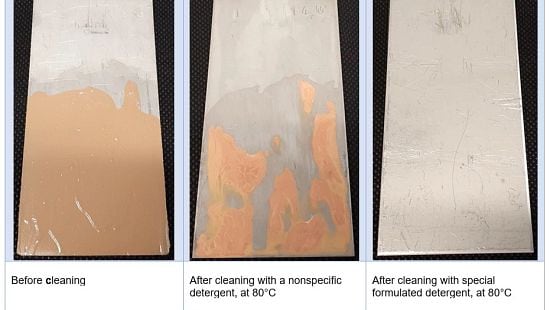 Fig. 3 Stainless steel coupons to compare cleaning performances of a nonspecific detergent and a detergent formulated specifically for removing high pigment loads.
---
High Mineral Loads
Content, such as clay, mica and kaolin can leave a residue on equipment surfaces. Although it's easily wiped away by hand, it can be very difficult to remove chemically due to its inert nature. Cleaning is achieved using the synergistic action between surfactants and chelating agents.
---
Clay Facemask:
Fig. 4 Stainless steel coupons to compare cleaning performances of a nonspecific detergent and a detergent formulated specifically for removing high mineral loads.
---
Overall, the personal care industry can be described as highly innovative and agile, with challenging soils and ingredients that are often very hard to remove. Consequently, highly effective detergents are required to address its cleaning challenges.
The cleaning standards for the industry are set by the ISO 22716 / 2007: Cosmetics - Good Manufacturing Practices (GMP)2 where cleaning is described as "all operations that ensure a level of cleanliness and appearance consisting of separating and eliminating generally visible dirt from a surface" (section 2.8).
Moreover, this guide outlines that where equipment is assigned to continuous production or production of successive batches of the same product, equipment should be cleaned and, if necessary, sanitized at appropriate intervals.2
The IFS HPC - Standard outlines in section 4.6.1 "…that based on hazard analysis and assessment of associated risk, cleaning and disinfection schedules shall be available and implemented. These shall specify data including the products utilized for cleaning and their instructions for use as well as the areas to be cleaned and / or disinfected. Also, the cleaning frequency shall be specified".3
There are different guidance documents outlining how to implement and maintain cleaning and hygiene procedures. Beside others, the suppliers of detergents and disinfectants can be used to service the implementation of a certain standard, to ensure that all the requirements are met.
1.2) Natural certification and selection of compliant detergents and disinfectants
Many marketing strategies of personal care companies promote the use of eco-friendly and biologically derived ingredients in cosmetic products.
Ecological considerations need to be addressed when developing new detergents for the evolving industry. There are several organizations providing eco-labeling on the market (Ecocert, Cosmos, NATRUE, BDIH Certified Natural Cosmetics) and it must be understood which requirements are set by the different organizations to provide a cleaning and disinfection product that complies with the relevant regulation.
Solvents are still used in the cleaning of cosmetic products. Converting to a water-based detergent is the first step to improving the ecological footprint of the cleaning procedure. Worker safety is also improved by this replacement.
Chelants and surfactants are the main ingredients within a detergent formulation that are influencing the ecological footprint.
Chelants
Traditionally, to deal with cosmetic products with high amounts of mineral components, EDTA (Tetrasodium salt of Ethylenediaminetetraacetic acid) has been used as a component of detergents. EDTA is a substance that persists for a long time in the environment. A major concern of EDTA is that it contributes to heavy metal bioavailability and remobilization processes in the environment.5
Alternatively, the use of phosphonates within formulations to replace EDTA has proven to be a solution. As well as for EDTA, the biodegradability of the phosphonates is poor. They are however precipitated and removed in sewage treatment plants and the remaining residues are non-toxic for aquatic organisms. Some countries also have limitations on P (Phosphorus) contents in their sewage treatment plants. These limitations are reflected in the global usage of phosphorous compounds in detergents.
Within nature, chelation is also widespread, in the context of photosynthesis in plants and oxygen transport in animals, as an example, it is seen. A synthetic chelant has the same mode of action using nitrogen atoms in combination with oxygen, functioning as complex-forming centers. Compared to the conventional complexing agents, the very good biodegradability makes this compound an excellent alternative for use in detergents from an ecological standpoint.
Surfactants
The increasing sustainability considerations of the personal care industry pushes the suppliers of detergents to use surfactants with ecolabels and ideally with no or minimal amounts of GHS hazard statements on the labels. Certified surfactants help protect the environment through responsible sourcing and less waste and pollution throughout the complete lifecycle.
The challenge is formulating cleaners that are equivalent to the traditional formulations in terms of performance, all while the label has no GHS pictograms, the detergent is readily biodegradable and has a very good toxicological profile.
1.3) Process Equipment: Common challenges and requirements
As so many different products are manufactured by the personal care industry, there is also a broad variety of process equipment in this industry. The different equipment ranges from simple small parts (buckets, beaker, spoons), mixers, up to highly dedicated dissolvers and homogenizers. All have their specific challenges with regards to cleaning and disinfection because they are predominantly designed to produce specified product formulations.
In reality, many plants within the industry are still operating with non-hygienically designed equipment that creates cleaning and sanitization challenges. Some common examples are dead legs in piping, dead/shadow spots within cleaning cycles, no circulation or CIP cleaning possibilities.
For new equipment, the recommendation is to follow the EHEDG (European Hygienic Engineering & Design Group) guidelines on equipment.4

Within the cosmetic GMP2 today, the equipment requirements are defined in section 5: "Equipment should be suitable for the intended purpose and capable of being cleaned and, if necessary, sanitized and maintained."

Summary
The large variety and the quick change of raw materials used in the personal care industry can be a challenge in the cleaning process, especially in case of difficult to clean formulations. The use of a great number of manufacturing equipment, some of which non-hygienically designed, can cause further inefficiencies that should be identified and solved for decreasing operational costs, downtime and for achieving the sustainability goals set by the company. These challenges can be addressed to hygiene partners like detergent suppliers that can support the manufacturer with the optimization of the cleaning procedures, recommending effective detergents suitable for the industry and in line with specific requirements (for example compliant with the standard of organizations providing natural certifications).
---
References
1. https://cosmeticseurope.eu/cosmetics-industry/innovation-and-future-trends-cosmetics-industry/
2. ISO 22716 / 2007, Cosmetics- Good Manufacturing Practices (GMP) - Guidelines on Good Manufacturing Practices; REVIEW 2017
3. IFS HPC Version 2 Guideline ; December 2016 ; https://www.ifs-certification.com/images/standards/ifs_hpc2/documents/IFS-HPC-v2-Guideline2.pdf
4. European Hygienic Engineering & Design Groupe (EHEDG); DOC 8 – Hygienic Design Principles ; Third edition , March 2018
5. European Chemicals Bureau, European Union Risk Assessment report edetic acid EDTA PL1,49, 2004