The view from 2023: How the pandemic helped us build the next generation of safe retail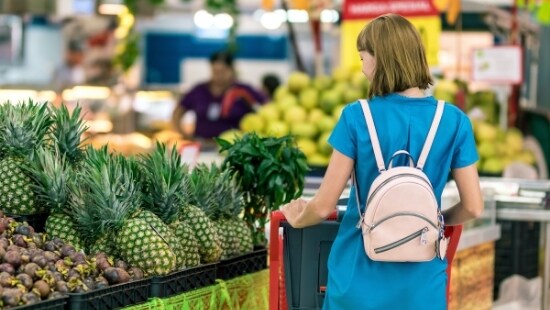 Fast-forward about three years. It's late 2023. The pandemic of 2020 is behind us. The much-anticipated vaccine was successful, widely distributed, and we're living in what is commonly known as "the new normal."
Most of that new normal is much like the old normal. We're humans after all, and most of us didn't like social distancing one bit. Quicker than we thought, we found ourselves going to games, plays and concerts again. We're meeting our friends for drinks, taking our kids to the movies and shopping casually. We're appreciating the little things more now that we know exactly how hard it is to miss them.
But some things have changed. Living through the SARS-CoV-2 virus has made us more conscious about the threat of infectious disease and how fragile any type of "normal" can really be. Every time we go out, there's still a nagging feeling of "what if?"
Luckily, much is done to put us at ease, both behind the scenes and in plain sight. Even now, hand sanitizer dispensers are commonplace and retailers are making sure you see staff cleaning. In the "before" times, hygiene and sanitation used to be more discreet, but now they are showcasing their efforts, so you know that it's priority No. 1.
Many businesses prominently display the Ecolab Science Certified™ seal, signifying that they're part of an effort launched in 2020, at the height of the pandemic. Coming out of the initial lockdowns, businesses needed to reassure customers that the places they eat, stay, play and shop are committed to a higher standard of cleanliness and safety.
Ecolab Science Certified is a science-based program that combines hospital grade disinfectants and other sanitizers, comprehensive public health and food safety training and procedures, and periodic auditing. Companies that meet program criteria and pass the independent audit performed by Ecolab earn the ability to display the Ecolab Science Certified seal – a visible sign of assurance that gives consumers confidence as they look to the future. The program is based on Ecolab's deep and continually evolving knowledge of micro-organisms, public health and food safety expertise, supported by decades of experience and innovation helping keep hospitals, hotels, restaurants and retail shops clean.
The Ecolab Science Certified program's popularity is just one example of how things have changed since 2020. In 2023, training methods backed up by data and behavioral science are more commonly part of the food retail sector's daily tool box. Digital tools are increasingly helping to eliminate human error. They afford us a real-time, data-driven view into what's going well and what isn't. Based on the data, we can shape trainings that address precise problem areas. Applied behavioral science helps us keep staff engaged, so they can learn exactly what they need to know, when they need to know it and do it correctly every time.
In livestock farming, where people and animals interact closely and the likelihood of pathogens crossing over into human society is the highest, we're now using the same combination of data analysis, science-based training and digital technology to help businesses keep herds healthy and humans safe, because we know that even the best virus-killing products are only as good as the people who are using them.
And speaking of technology, everybody remembers the COVID-19 outbreaks at meat plants that almost broke the food supply chain. But there were also near-misses that nobody noticed because digital remote monitoring technology caught them before they happened.
In one notable example, Ecolab's 3D TRASAR™ Technology for Clean-in-Place noticed a malfunctioning pasteurizer in the middle of the night at a large dairy plant – a situation that could have jeopardized the supply chain in that facility's region. Without human intervention, the connected monitoring technology notified the site's operators, so they could fix the issue before real food safety issues arose and products had to be recalled from stores.
After it proved its value during the pandemic, many CPG companies invested in installing or upgrading monitoring capabilities. It's an additional food safety failsafe that's making supply chains more resistant to disruption.
Already, it's easy to forget how far we've come since the pandemic. The vaccine was the result of a of a worldwide collective effort. And just like advances since the 1918 influenza pandemic made us better prepared to tackle the coronavirus, all the actions we've taken since 2020 have put us in a much better position to face the next global health crisis. The difference is that the pace of innovation is much higher, so we've leapt further and faster.
The importance of that leap is obscured by the very thing that it was designed to deliver: a return to normal life. Of course, we don't always think about it when we stop at the store to pick up a few things on the way home from work. But all the things we've done have made society much more resilient, and retail is a prime example. When the next pathogen with pandemic potential appears, we'll be more ready than ever.
Adam Johnson is Vice President and General manager of Global Food Retail Services at Ecolab
Please join us as for Ecolab's special session "Reusing containers with confidence: How Loop, Tesco and Ecolab are launching the next generation of sustainable grocery shopping" during the Sustainable Retail Summit, on Friday, October 16, 3 p.m. CET (9 a.m. U.S. Eastern Time)
Panelists:
Tom Szaky, founder and CEO of Loop's parent company, TerraCycle

Giles Bolton, responsible sourcing director at Tesco

Jim Rekoske, Ecolab senior vice president of research, development & engineering

Moderator: Nick Alfano, executive vice president and general manager of Ecolab's Global Food & Beverage business