5 Key Lessons from 2020 for Building a Better Future
Ecolab is on a mission to help make the world a better place. CEO Christophe Beck reflects on five key lessons learned from last year that will help shape how we navigate the next 12 months and beyond.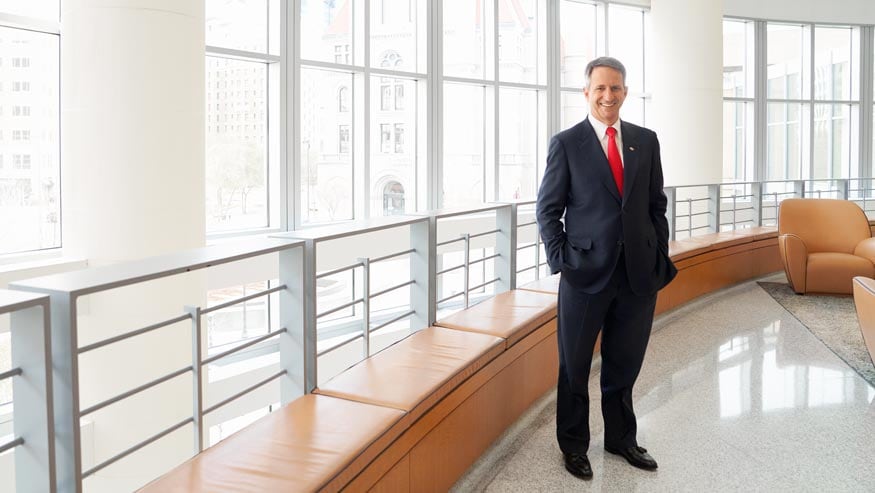 Last October, we created a video to celebrate how the Ecolab team stepped up during the pandemic. As I watched this video again, I felt even prouder of what our team did to help our customers around the world deliver safe healthcare and make sure essential goods and services were available. It took a lot of hard work and ingenuity – and a steadfast commitment to staying safe while doing our part to fight the pandemic.
Vaccines are on their way and thankfully we may begin to see the end of this global public health crisis. But while I know we will all be very happy when we can return to some normalcy, I hope we will remember what we've learned from this experience. For me, there were five key lessons:
1. The people working behind the scenes are heroes.
Always were, but now we know how much we depend on the essential work they do. Restaurant workers, nursing home attendants, hotel housekeepers, grocery store clerks – they are the ones who make things clean and keep us safe. And they were there throughout the pandemic, often taking personal risks to serve the public. And I cannot forget our own frontline heroes – the associates in our facilities and those who continue to safely provide service to our customers. We are proud to support them and we stand in awe of their dedication.
2. A virus can strike anywhere but its impact is felt most deeply by marginalized communities.
While some have called COVID-19 the great equalizer because anyone can be infected, the reality is that the pandemic has exacerbated and exposed long-standing inequalities. For example, in the U.S., Black Americans continue to experience the highest overall COVID-19 mortality rates – more than twice the rate of white Americans, according to APM Research Lab. This is due to significant disparities in healthcare, income, employment and food and housing security. In addition to spurring better public health practices, the pandemic has clearly shown that we must do more to actively fight against racial and social injustice in our communities. As a company, we are deeply committed to taking action internally and externally and you will see this as an ongoing focus for us.
3. Warning signs should not be ignored.
For years scientists warned of another global pandemic, and we didn't take it seriously enough. We battled MERS, H1N1 and SARS, and then we moved on. Let's face it -- society wasn't prepared when SARS-CoV-2 struck and we floundered, especially in the early months. We know there will be other pandemics in the future; we also know that we face other huge threats, such as global water scarcity and climate change. The pandemic should teach us how important it is to take collective action now on these known risks, to prevent even greater disasters for people and the planet.
4. Necessity is indeed the mother of invention.
Before the pandemic, Ecolab was moving to digital technology, but once the pandemic hit, we actively pursued more virtual solutions and got them into the field at a much faster pace. Our digital tools are now being used to inspect, troubleshoot and install systems remotely, and to quickly mobilize teams of experts living in different locations. Support from Ecolab experts that would historically have to be scheduled up to six weeks in advance can now be delivered remotely in less than five days. As a result of how we've learned to apply digital technology, we are serving our customers better, protecting the health of our employees and transferring knowledge to our field teams more effectively. We've learned that we can indeed adopt new technology quickly – and we need to keep doing so.
5. Humans are amazingly resilient.
We learned how to work from home, how to do online doctor's appointments, how to collaborate in online meetings, how to celebrate virtually, even how to Zoom with Grandma. Let's keep what we've learned about how to adapt in the face of obstacles, and find new ways to solve the big problems the world is still facing. I've seen amazing resilience within our Ecolab team, within our customers and in society at large -- and I'm optimistic that what we have learned from this devastating experience with COVID-19 can help us all make the world a better place.