Ecolab Launches New Ecolab Science Certified™ Ad Campaign
Ecolab Science Certified ad builds confidence with consumers in a scientific clean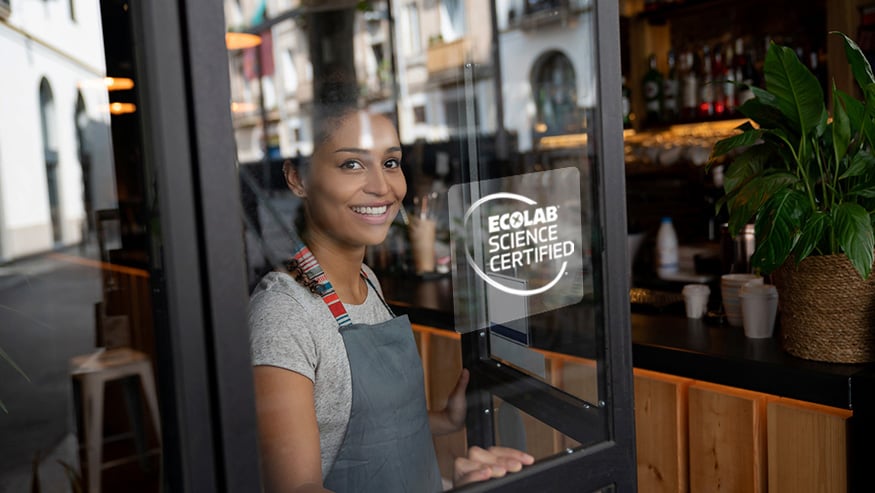 Ecolab's latest consumer media and advertising campaign is designed to drive consumer awareness of the company's science-backed public health and food safety program, Ecolab Science CertifiedTM, and build consumer confidence in returning to the places we love and the moments we've missed. The program helps businesses advance cleaner and safer practices during these challenging times, addressing concerns around the COVID-19 virus and other germs.
Now reaching millions of U.S. consumers, the new campaign is centered on Ecolab's unique ability to take the scientific cleaning expertise we use in healthcare settings to the places where we eat, stay, shop and play.
It's not just any clean, its scientific clean.
A scientific clean combines advanced cleaning and disinfecting products with repeatable practices and periodic check-ups that help businesses deliver a higher level of cleanliness. It's a clean that can help consumers feel confident as they get back to the moments and the places they've been missing.
Now more than ever, consumers are looking for a visible commitment to clean and evidence of hygiene and public health best practices. Based on consumer research conducted earlier this year, 95% of consumers surveyed want to see as much or more cleaning and sanitation practices at everyday places even after a COVID-19 vaccine is widely distributed.1
"The Ecolab Science Certified seal helps consumers recognize the hospitality, food service, food retail and other businesses committed to advancing cleaner, safer practices," said Gail Peterson, Ecolab's chief marketing officer. "Reaching millions of consumers with a robust advertising and public awareness campaign will help raise awareness of the seal and the scientific expertise Ecolab brings to this program."
Ecolab Science Certified is a comprehensive, science-based, program that combines hospital disinfectants and other sanitizers, comprehensive public health and food safety training and procedures, and periodic auditing performed by Ecolab specialists to help address consumer expectations and deliver a higher level of cleanliness. Learn more about the program at www.ecolab.com/sciencecertified.
1 Source: "Post-Vaccine Consumer Attitude Study," January 5, 2021, paid for by Ecolab.