Make Your Cleaning and Sanitizing Procedures More Efficient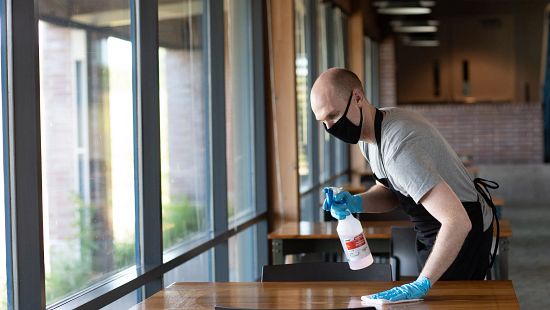 In the post-pandemic environment, sanitation and cleanliness will continue to play a larger role than ever in daily restaurant operations. Plus, consumer expectations for safety are still high. Our recent research on post-vaccine consumer attitudes showed that 95% want to see as much or more cleaning and sanitation practices after vaccines are fully distributed.
To meet these elevated expectations and to help guests and employees feel safe, it's important to keep cleaning and sanitation top-of-mind, even as the threat of COVID-19 wanes. Norovirus and other pathogens will continue to pose a threat as we move out of the pandemic, so there's no time for complacency. Here are some ways to ensure your business meets food safety and public health standards while also optimizing operations.
Streamlining Processes
With guests returning but many businesses still short-staffed, employees are often being asked to do more than they once did. Visible cleaning processes, regular training and compliance monitoring all remain important. But unlike food costs, which can be reduced through menu optimization and smart negotiating, the labor involved in maintaining high levels of sanitation can be more difficult to minimize.
Our Sink & Surface Cleaner Sanitizer (EPA Reg. No. 1677-260) which combines a cleaner and a sanitizer in one innovative, no-rinse, EPA-registered solution, has helped many businesses overcome some these obstacles. This product both streamlines processes and saves on labor by eliminating the need to rinse between cleaning and sanitization, turning a three-step process into a two-step process.
By omitting the rinsing step, you can improve labor efficiency up to 33% and simplify staff training to help ensure protocols are followed. You'll also reduce the likelihood of improper sanitization on food contact surfaces. And with rinsing eliminated, reduced water usage can save you thousands of gallons per year at each restaurant location.
Our dilutable concentrate is formulated at about a quarter ounce per gallon, which also helps cut costs while reducing packaging, transportation and storage requirements, and can be safely used without personal protective equipment (PPE).
Our Sink & Surface Cleaner Sanitizer is part of a full system that includes:
The solution itself, which can be used as a sanitizer in the third sink or as a spray to clean and sanitize food contact surfaces;
A mobile dry wipe dispenser that makes cleaning and sanitization faster and more efficient;
A Visual Compliance Bucket that features a clear window that holds a color-coded test strip to signal that the solution is at full strength.
Enhancing Food Safety
More than 75% of food-borne illnesses originate in foodservice settings, according to the Centers for Disease Control and Prevention (CDC), and 13% of outbreaks are caused by contaminated equipment or environments.
Our experts work to create innovative products that streamline cleaning procedures and offer fast, simplified solutions to tackle ongoing food safety challenges. Our Sink & Surface Cleaner Sanitizer, when used to sanitize surfaces that food is prepared on, can help reduce the risk of food-borne illnesses and maintain a strong food safety culture in your restaurant.
When used on hard, non-porous surfaces*, our Sink & Surface Cleaner Sanitizer has a 30-second Norovirus kill claim as well as a 15-second kill claim against the virus that causes COVID-19.
In the current climate, it's no surprise that consumers are paying extra attention to the cleaning and sanitation processes in restaurants. By using a trustworthy solution that kills food-borne illness-causing bacteria, we can ensure restaurants are providing the enhanced guest experiences now and in the future.
---
*When used as directed.
Download Sink & Surface Cleaner Sanitizer eBook