Sanitizing Smarter in Non-Commercial Foodservice Facilities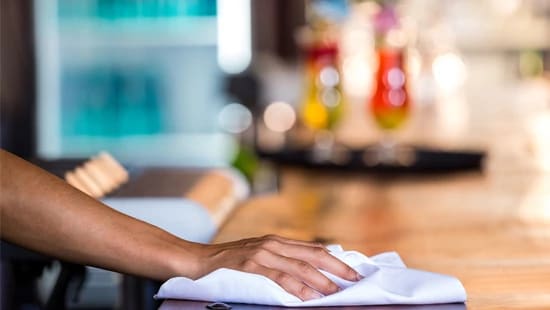 While cleanliness and sanitation have always been foundational in foodservice, the COVID-19 pandemic has brought a renewed awareness to public health and food safety practices. Much has been said about the significant impact this shift has had on restaurants and other commercial foodservice establishments, but it has also prompted changes at non-commercial facilities, such as cafeterias and break rooms.
Operators have had to help show their guest that spaces are clean. Part of helping ensure that students, residents or others using a non-commercial eatery see that spaces are clean is to communicate what steps are being taken and what products are used to keep food contact surfaces, such as prep counters and dining spaces, clean and sanitized.
Save Time Without Sacrificing Compliance
Designed to help reduce risk while simplifying procedures, Sink & Surface Cleaner Sanitizer is a two-in-one no-rinse surface cleaner and sanitizer for use on food contact surfaces. With an industry-leading 15-second SARS-CoV-2 kill claim and a 30-second norovirus kill claim*, it is a fast and easy way to clean and sanitize hard, non-porous surfaces in just two steps.
By using Sink & Surface Cleaner Sanitizer, operators can save time through simplified procedures while also helping reduce risk from viruses and bacteria that cause food-borne illnesses. Visibly cleaning and communicating these sanitization procedures and solutions to diners can help increase confidence as well.
Build Trust
Speaking of confidence, operators are going to have to do more in the post-pandemic landscape to help reassure diners. Because guests have a heightened awareness surrounding sanitation compared to before the pandemic, operators have a responsibility to convey to them what's being done.
Posting signage about when cleaning takes place is a start, but visible markers of sanitation, including spray bottles, buckets of cleaner and charts showing when the last cleaning took place are also important for customers to see. By showing guests that procedures are in place to help reduce risk related to COVID-19 and food-borne illnesses, operators can begin to restore consumers' confidence.
Even now as we move past the pandemic, operators will have to pay close attention to sanitation practices. According to Technomic's 2020 Future of FSR: Family Style and Casual Dining Consumer Trend Report, guests say some factors implemented during the pandemic will remain important to them. For example, 25% say readily available sanitizing options for customers will be important and 15% say the same about communication to guests about COVID-19 response measures. Noncommercial foodservice facilities will face the same concerns and should prepare to alleviate them.
By implementing a two-in-one cleaning and sanitizing solution now, operators can help ensure they are cleaning and sanitizing smarter while also setting themselves up for a smooth transition after the pandemic.
---
*When used according to label for EPA Reg. 1677-260.

Download Sink & Surface Cleaner Sanitizer eBook