Setting SMART Goals to Build a Strong Food Safety Culture
How to make food safety a core component of your business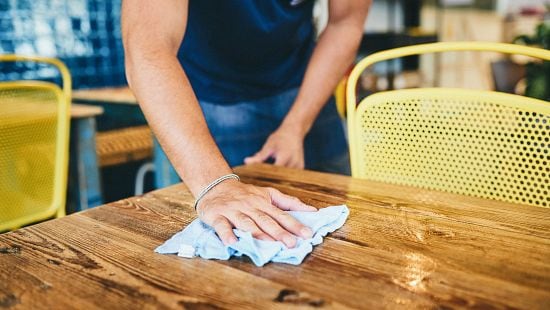 Watch Recorded Webinar
Download Infographic: Setting SMART Goals
A strong food safety focus is fundamental in order to help protect your guests, your team and your reputation.
The businesses that do it best have food safety ingrained in their culture, something that requires specific, measurable, achievable, realistic and timely (SMART) goals to achieve. These are objectives beyond avoiding recalls or making sure food is cooked to a proper temperature. SMART goals are aimed at changing behaviors, developing shared values and working collectively toward data-driven, sustainable results.
Let's take a look at how your business can use SMART goals to develop a culture built around food safety.
---
Take a Behavior-Based Approach
Food safety protocols should play a critical role in your business, but it's just as important to have buy-in at all levels of your organization.
"When you look at most SMART goals, they don't necessarily talk about how you're going to change people's behavior to achieve those goals, and maybe that's really the crux of smarter food safety culture," says Dr. Jill Hollingsworth, Vice President of Food Safety and Retail Industry Relations. "It's not just having these tangible goals, but it's also using these goals to change behavior."
In order to develop a strong food safety culture, think about implementing a behavior-based food safety management program focused on both processes and people. When behaviors and systems work together, a strong food safety culture emerges, which drives better outcomes.
"The difference in a behavior-based program is you do things because you genuinely believe they're the right things to do," Hollingsworth says. "People understand they should wash their hands not because of the program and not because it's time for them to wash their hands, but because they really believe if they wash their hands, they personally can prevent someone from getting sick. You have to believe in what you're doing and understand why you're doing it."
Let Everyone Have a Say
A healthy food safety culture starts at the top. Though your leadership team should embody that culture, it's important to let employees feel like they're a part of the process, too. When you allow them to help set realistic goals, they are more likely to feel accountable in achieving them.
Start small by looking at goals on a daily basis — for example, ensuring food is stored at a proper temperature — and then look forward to a month from now and two months from now. Ask your employees what they think the goals should be, and then ensure they have the tools and training needed to be successful.
"We need to think about different ways we can recognize people for not only big wins, but small victories."

– Dr. Jill Hollingsworth
Vice President of Food Safety and Retail Industry Relations
Look at the Data
As you work toward building a strong food safety culture, encourage feedback. It's essential to find partners that can help you look at your own systems and provide constructive guidance. How do you improve those systems within your own brand? There's not a one-size solution for all.
"Once you find out how you're going to measure your food safety goals, you need to find out where you are and then where you want to be," says Mandy Sedlak, Sr. Food Safety and Public Health Manager for EcoSure. "We have an on-site assessment process where we observe brand excellence behaviors, which includes food safety and benchmark those behaviors against set standards. In Food Safety, those standards are built on the science shown to help keep people safe.
Utilizing third party or digital tools can help eliminate a potential bias, but that doesn't mean you should completely ignore your own internal metrics. Customer satisfaction surveys or internal tracking measures can provide valuable data to help pinpoint areas of improvement.
---
Celebrate each Victory
The greatest assets you have in developing a strong food safety culture are your employees. It's difficult to reach a goal without buy-in at all levels. When your employees want to take action and achieve food safety goals, you're on track. But don't forget to recognize their actions and behaviors. Complacency can actually hinder progress.
Try applauding even the smallest victories to boost morale. Whether you offer words of encouragement, or celebrate with badges of honor, recognizing your employees is vital to a healthy food safety culture.
"We need to think about different ways we can recognize people for not only big wins, but small victories," Hollingsworth says. "This helps everyone work together as a team."