Leveraging Digital Technology to Transform Operational Efficiency
How savvy restaurant operators are taking a data-driven approach to enhancing food safety, operational efficiency and employee retention — all at once.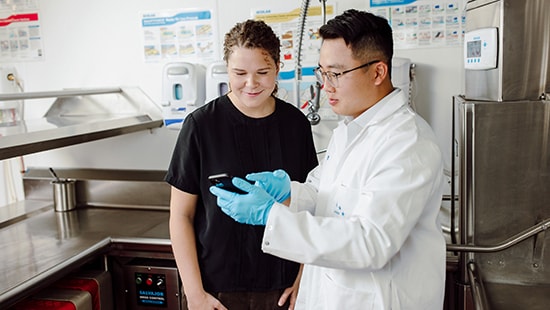 Savvy restaurant operators today recognize the need to plan for permanent shifts in guest behavior alongside the accelerating pace of change in their industry. As the National Restaurant Association aptly stated, "Restaurant and foodservice operators' ability to innovate and adapt is creating a new future for the restaurant industry,"1 and new digital technologies are enabling this new future — with 80% of restaurant operators saying that technology is powering their competitive advantages today.2 While many restaurants are focusing on customer-facing technologies, some of the most innovative and successful restaurant operators are using digital monitoring and analytics tools to focus on their internal operations — uncovering inefficiencies, driving operational performance and tackling rising challenges head-on.
Defining a Dynamic Industry Reality
"This is going to take a while." That is the overall sentiment from the National Restaurant Association's 2022 State of the Restaurant Industry report. Most restaurant operators think it will be at least a year or more until business conditions return to normal.3
But let's be real: "Normal" went out the window two years ago. Restaurant operators are dealing with three key changes that increasingly appear to be permanent:
The tight labor market: Labor has always been a major pressure — but it's more challenging than ever. Half of restaurant operators — across FSR, FCR and QSR — say recruiting and retaining employees is their top challenge in 2022.4 With U.S. Bureau of Labor Statistics figures showing record-low unemployment around the nation5, the tight labor market and rising labor costs are not easing up.
Rising operational costs: Higher food costs and rising occupancy costs are eating into margins, with 9 in 10 restaurant operators saying costs have jumped significantly from pre-pandemic levels.6 Inflation at levels not seen in decades, coupled with ongoing global supply chain disruptions, will keep pushing prices higher — and experts suggest these contributing factors will take years to resolve.
Shifting consumer preferences driving evolving business formats: The way we eat "out" has changed forever, too. More than half of U.S. adults say takeout and food delivery are now essential to the way they live — and that is the view shared by nearly three-quarters of millennials.7 Restaurants in all categories are focusing on expanding their off-premises business to meet these shifting preferences and capture growth opportunities.
An Emerging Focus: Using Digital Technologies
to Drive Operational Excellence
Most of the hype and attention has focused on technologies that transform the customer experience — mobile-first ordering, contactless payment, delivery services, etc. But as market shifts intensify pressures around operating costs, some of the most innovative operators are leveraging digital technologies to transform their internal operations. They are taking cues from the broader business world, capturing powerful data on front- and back-of-house operations, and using smart analytics tools to find opportunities to drive efficiency and performance, while protecting food safety and quality.
Digital Technologies Driving Smarter Food Safety
Ensuring food safety and quality has always been a critical priority. But it's rarely been viewed as a competitive differentiator. Today, leading food safety partners are using smart, connected digital technologies to gather valuable data points that deliver meaningful insights into food safety metrics. They are combining IoT data from connected dish machines and other devices with detailed information from service visits and audits to create a centralized digital food safety command center that enables a comprehensive, proactive and data-driven approach to food safety and regulatory compliance. Restaurant operators are not using these digital insights just to ensure protocols are followed, but also to monitor key outcomes and identify concerning trends before they become serious food safety issues. This type of digital food safety platform also helps restaurant operators meet the rising regulatory standards through proactive, data-driven risk mitigation — and provides a simple, accessible repository of food safety and compliance documentation for constant audit-readiness.
Digital Platforms Uncovering Meaningful Operational Improvements
Some of the most innovative restaurant operators are using these same digital platforms to monitor and improve their operational performance and efficiency. Because food safety protocols are seamlessly integrated in front- and back-of-house operations, the data points and metrics used to drive food safety and compliance can also be used to monitor operational processes and workflows. Leading digital platforms are harnessing these operational data points to deliver unit-level visibility and insights — helping restaurant operators to proactively identify performance issues, find opportunities to drive efficiencies, create best practices and measure performance against benchmarks.
Targeted Insights That Support Employee Satisfaction and Retention
This kind of operational monitoring technology could easily be viewed as policing workers — something every foodservice business is wary of doing in a tight labor market. But thoughtful restaurant operators are leveraging these insights to deliver targeted support that is personalized, meaningful and truly helpful to workers. Operational monitoring can help deliver outcomes that ultimately build a work environment that drives satisfaction and retention by providing focused training to build skill development and providing objective, fair performance management.
---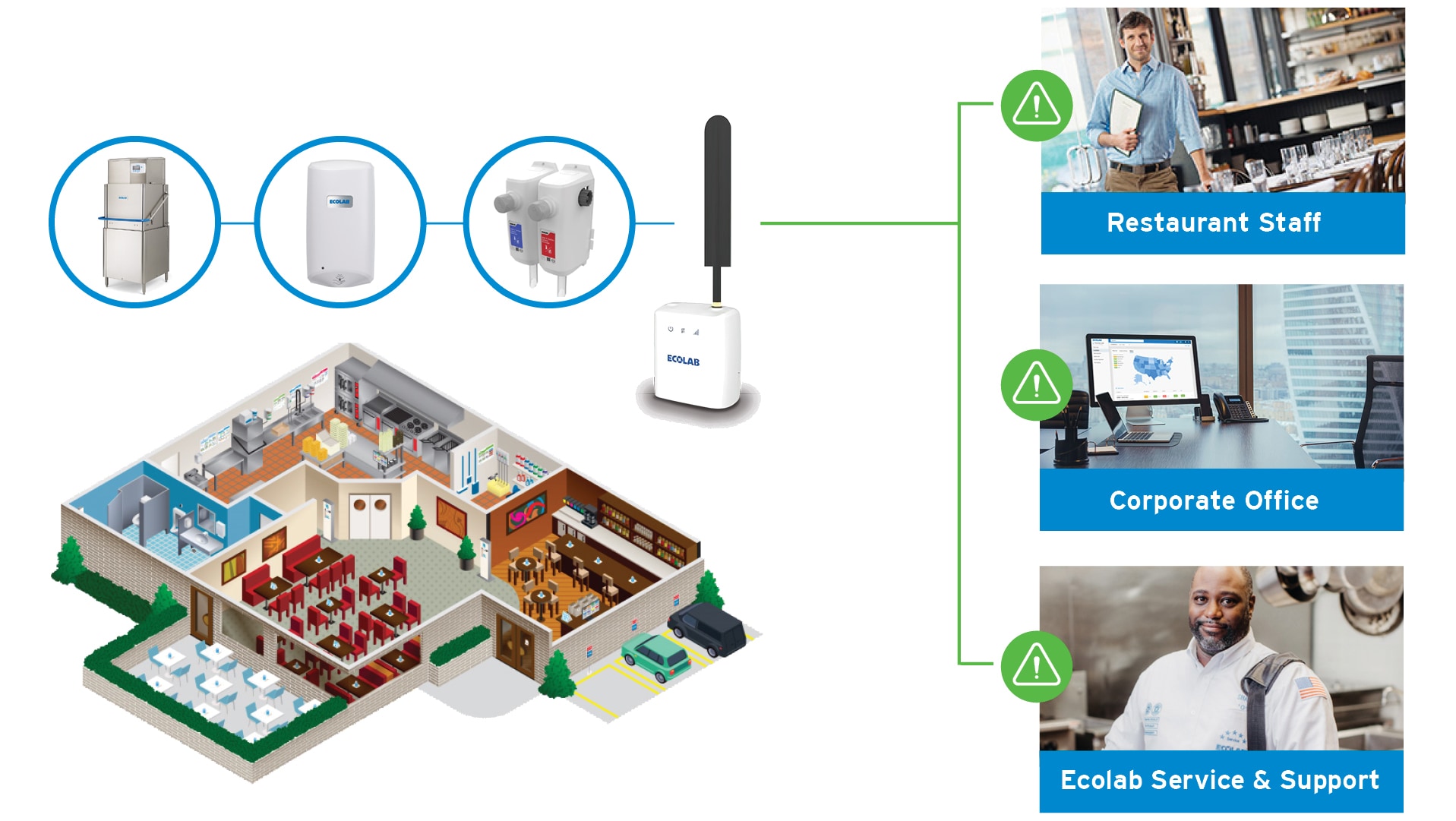 Foodservice Intelligence Powered by ECOLAB3D™ uses digitally enabled solutions to collect and analyze data for actionable insights that provide heightened visibility into your operations, identify emerging risks and opportunities, and drive more proactive service, training and corrective action.
---
Technology as One Part of The Solution

Foodservice businesses are benefitting from the biggest (and hardest-learned) lesson others have learned: Digital technologies offer incredible visibility and insight into operations — but technology alone is not the solution. That is where restaurant operators are leaning on trusted partners to provide both the digital platforms to capture and visualize food safety and operational data — and the expertise and innovative offerings to act on these data-driven insights. The right partner should be able to bring simpler, more efficient protocols to life with proven best practices and offerings like multi-surface and multi-purpose products, and purpose-built tools for efficient, ergonomic cleaning. And perhaps most importantly — because we are talking about people-driven processes — a true partner should be able to directly support the training (or re-training) of staff with ready-to-use resources and on-site instruction that makes science-based best practices easy to understand and follow.
Using Digital Technology to Support the Human Element of Business
New technologies always come with fears of making the world less human, but the digital technologies transforming restaurant operations are doing so by bringing greater understanding and empathy for the human element of the business. These technologies give restaurant operators eyes and ears on their operations, across all locations — and focuses their attention on the points where processes bog (or break) down. These are the points where food safety risks emerge. This is where inefficiency hides. And dealing with these breakdowns leads to worker frustration, stress and burnout. In other words, digital technologies uncover win-win-win opportunities — the high-impact changes that drive operational excellence and efficiency; helping ensure food safety, protecting customers and the business reputation; and simplify staff workflows to support healthier, happier work environments.
---
1. https://restaurant.org/research-and-media/research/research-reports/state-of-the-industry/
2. https://restaurant.org/research-and-media/research/research-reports/state-of-the-industry/
3. https://restaurant.org/research-and-media/research/research-reports/state-of-the-industry/
4. https://restaurant.org/research-and-media/research/research-reports/state-of-the-industry/
5. https://www.bls.gov/opub/ted/2022/12-states-set-all-time-low-unemployment-rates-in-december-2021.htm/
6. https://restaurant.org/research-and-media/research/research-reports/state-of-the-industry/
7. https://restaurant.org/research-and-media/research/research-reports/state-of-the-industry/