Mitigating hospital-onset Clostridioides difficle: New study highlights Ecolab's Patient Room Program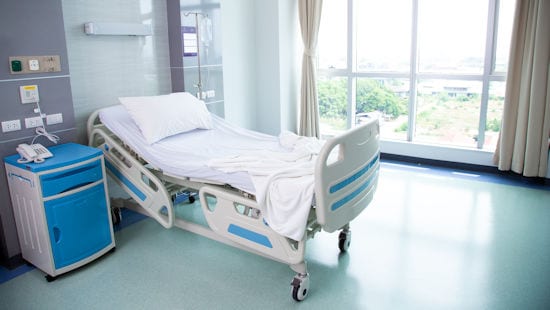 Clostridiodes difficile (C. diff) continues to be a significant cause of healthcare-associated infections, leading to increased length of stay and healthcare costs. The C. difficile spore can survive on environmental surfaces for at least five months if not removed by manual cleaning and disinfection with a sporicide.
Research published over the past five years has shed light on C. difficile transmission. We now know that 12% of hospitalized patients are asymptomatically colonized with C. difficile. Asymptomatic spreading is greatly increased when patients are treated with antibiotics. Additionally, if a prior bed occupant is exposed to an antibiotic, the NEXT person to occupy that bed has a significantly increased risk of C. difficile infection1.
Additional research on environmental contamination further highlights the issue: 62% of rooms housing a patient with symptomatic C. difficile infection are contaminated, 38% of rooms housing an asymptomatic carrier are contaminated with C. difficile, and 15% of rooms housing patients who are PCR negative for C. difficile are contaminated with C. difficile1. This equates to more than 150,000 patient rooms contaminated with C. difficile in the US on any given day!
Based on research from the past five years, it is clear that we can no longer only use a sporicide for daily and discharge cleaning in rooms housing patient known to be infected or colonized with C. difficile2.
And while using a sporicide for daily and discharge cleaning is critical, it is important to evaluate the thoroughness of cleaning. Even the most effective disinfectant won't ensure a clean safe environment if it isn't applied to high touch surfaces! The Centers for Disease Control and Prevention, as well as professional associations such as AORN, APIC and AHE, recommend the use of an objective environmental hygiene monitoring method, such as DAZO®, along with direct observation, to ensure that high touch objects are consistently and thoroughly cleaned.
Ecolab's Patient Room Program combines the use of OxyCide3, a daily-use sporicide, with DAZO fluorescent marker and digital dashboard, and training on an evidence-based cleaning process to aid disinfection cleaning in hospitals.
A new study entitled "Mitigating hospital-onset Clostridioides difficle: The impact of an optimized environmental hygiene program in eight hospitals", was published on-line in the peer-reviewed journal Infection Control and Hospital Epidemiology (ICHE) in June 2022. Following an improvement in cleaning thoroughness using the Ecolab Patient Room Program, there was a sustained 50% decrease in hospital onset Clostridioides difficle infections (HO-CDIs) in comparison to the control hospitals. This multicenter study with controls provides compelling evidence that Ecolab's Patient Room Program substantially decreased hospital-onset C. difficile infection.
Read the full study here.
Ecolab's Patient Room Program provides a daily defense for infection prevention in hospitals via a complete environmental hygiene program. Learn more here.
1. Warren BG, Turner NA, Addison R et al. The impact of infection versus colonization on Clostridioides difficile environmental contamination in hospitalized patients with diarrhea. Open Forum Infect Dis 2022 Feb 9;9(4):ofac069. Doi:10.1093/ofid/ofac069. https://www.ncbi.nlm.nih.gov/pmc/articles/PMC8900930/
2. Carling PC. Healthcare environmental hygiene: New insights and CDC guidance. Infect Dis Clin N Am 35 (2021) 609-629. https://www.id.theclinics.com/article/S0891-5520(21)00039-8/fulltext
3. EPA Reg. No. 1677-237