The Ecolab Guide to Healthy Education Buildings
Student well-being has started to come more to the forefront and health and wellness efforts are underway on many higher education campuses.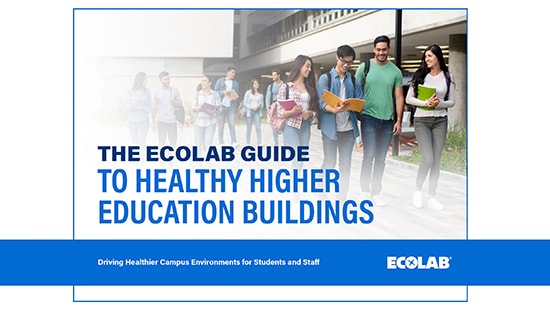 The focus on healthy higher education campus buildings is a natural outgrowth of the sustainable, "green" building trend of the last two decades — accelerated by the COVID-19 pandemic. Creating healthier indoor environments aligns with the long-standing focus colleges and universities have on the health and well-being of students, faculty and staff. It also serves as a natural extension of these institutions' emphasis on sustainability. Despite increased awareness of how the built environment impacts the health of people and the planet, there remains some uncertainty around the definition of, and criteria for, a healthy building.
This guide is designed to give those with responsibility for student and employee safety, well-being and satisfaction, as well as those with responsibility for college and university enrollment, a go-to resource for understanding the healthy building paradigm,
Learn more by downloading the complete guide.
Download the Guide
"In the post-COVID world, buildings will be seen as a first line of defense against disease. A healthy building will go from a 'nice to have' to a competitive 'must have'.
Harvard Business Review
For more information about how Ecolab can help you achieve healthy buildings, visit