Why Cleaning and Hand Hygiene is Good for Business
Public Health and Operational Benefits of Infection Prevention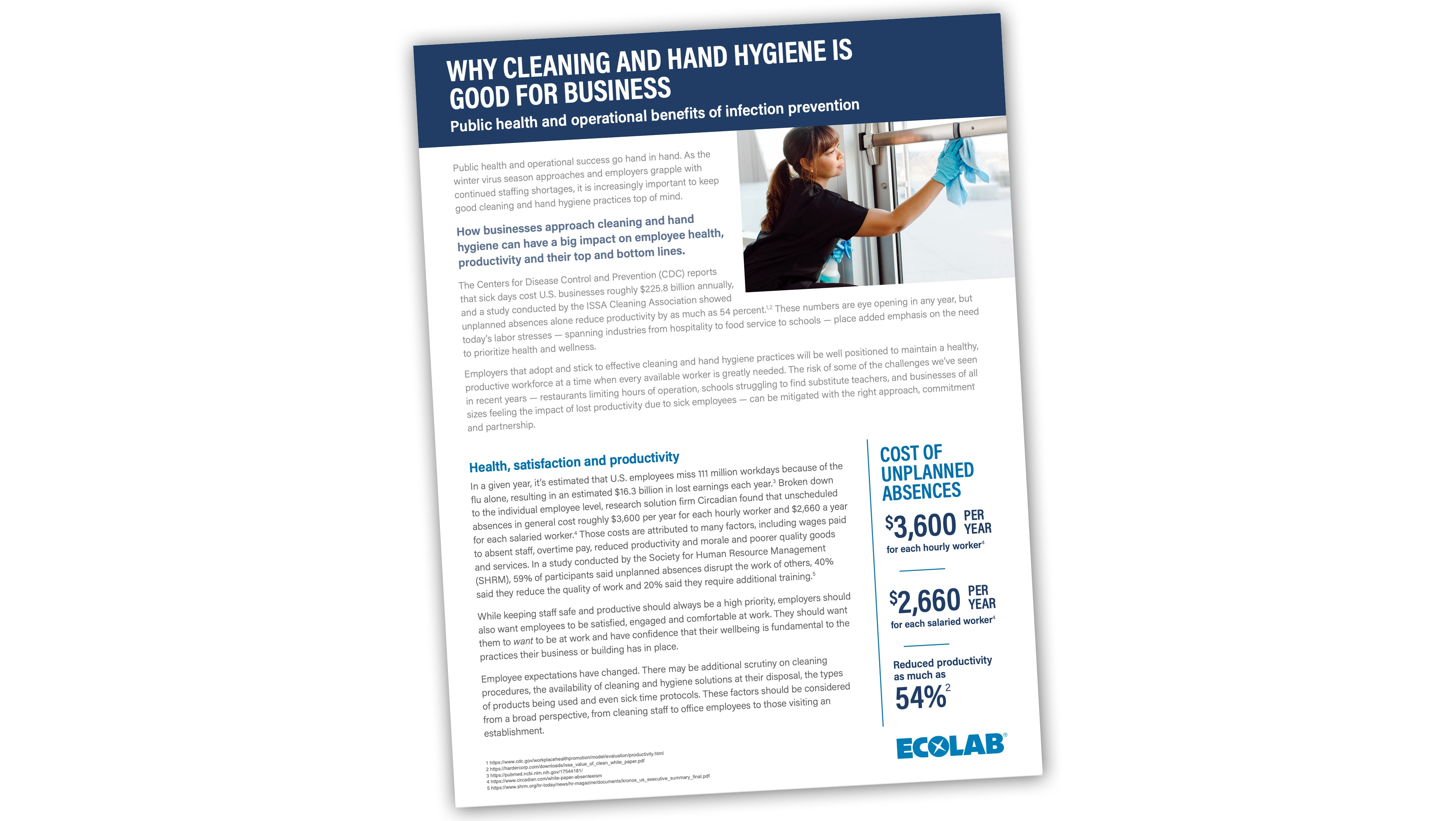 Public health and operational success go hand in hand. As the winter virus season approaches and employers grapple with continued staffing shortages, it is increasingly important to keep good cleaning and hand hygiene practices top of mind.
How businesses approach cleaning and hand hygiene can have a big impact on employee health, productivity and their top and bottom lines.
The Centers for Disease Control and Prevention (CDC) reports that sick days cost U.S. businesses roughly $225.8 billion annually, and a study conducted by the ISSA Cleaning Association showed unplanned absences alone reduce productivity by as much as 54 percent.1,2 These numbers are eye opening in any year, but today's labor stresses — spanning industries from hospitality to food service to schools — place added emphasis on the need to prioritize health and wellness.
Employers that adopt and stick to effective cleaning and hand hygiene practices will be well positioned to maintain a healthy, productive workforce at a time when every available worker is greatly needed. The risk of some of the challenges we've seen in recent years — restaurants limiting hours of operation, schools struggling to find substitute teachers, and businesses of all sizes feeling the impact of lost productivity due to sick employees — can be mitigated with the right approach, commitment and partnership.
Learn more by downloading and reading the full article.
Download the Article
A cleaning and hand hygiene program that incorporates the right products and protocols can earn buy-in, drive productivity and satisfy employee expectations. It can also help deliver exceptional experiences that drive revenue through longer stays, positive reviews, referrals and increased visits and business.


Learn how you can help protect people and your business through an effective hygiene program at Ecolab.com.com/seasonal-virus-prevention
---
About the Author: Amanda Bakken, Staff Scientist and Technical Expert at Ecolab
As a staff science and technical expert, Amanda develops surface hygiene solutions for a wide range of markets and is an expert on disinfection products and applications, particularly related to COVID-19. Amanda is a member of Ecolab's Food Safety and Public Health Leadership Team and provide guidance and advisory support across Ecolab and to customers. She has a Bachelor of Science in Chemistry and has held various roles at Ecolab supporting quality manufacturing, product development and product commercialization.