Advocating for Equality: How Ecolab Stands Up for LGBTQ+ Rights and Human Dignity
Ecolab Chairman and CEO Christophe Beck writes about the fundamental rights of the LGBTQ+ community and Ecolab's support within and beyond its walls.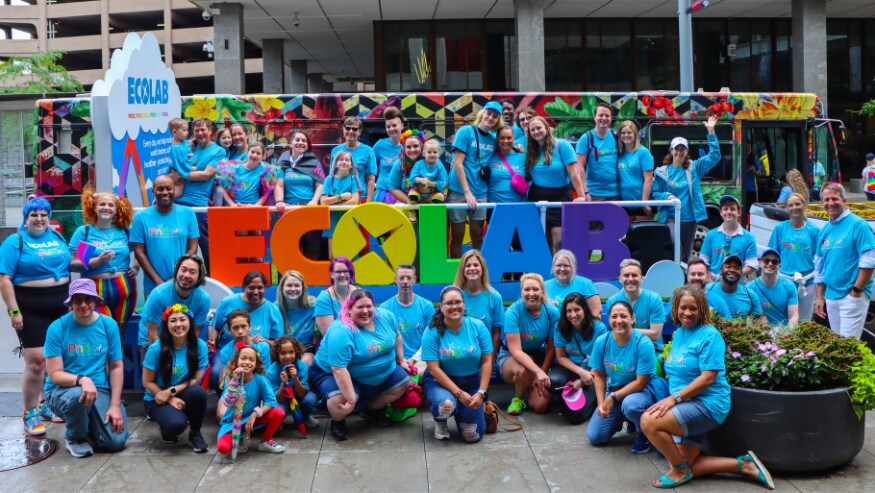 This year, my family and I attended the Twin Cities Pride March, an incredible experience shared with many Ecolab colleagues and friends. The day is etched in my memory for many reasons, but especially the deep sense of belonging felt by all who attended.
That sense of belonging is something we seek every day, for every Ecolab employee. This is because we firmly believe in the power of diverse perspectives to drive innovation and fuel our continued growth. We hire and value individuals from many backgrounds and experiences, to foster a culture of inclusion where associates are supported to reach their full potential.
Our long-standing commitment is to an inclusive and discrimination-free workplace, where everyone feels safe, welcome, and respected – an environment where all employees, including those in the LGBTQ+ community, can thrive. This begins by learning about each other's backgrounds and experiences. Our Pride employee resource group (ERG) plays a vital role and in 2021 they collaborated with our Human Resources, Legal and Diversity, Equity and Inclusion (DE&I) teams to develop an educational course on LGBTQ+ basics. This work shared the importance of belonging, helped colleagues understand gender identity and sexual orientation, and provides resources for those seeking to be allies.
Allyship is essential to an inclusive culture, which is also why our Pride ERG has led numerous initiatives around the world to educate Ecolab employees on the importance of using and respecting gender pronouns. The team also played a critical role in developing a Gender Transition in the Workplace Resource document, which guides transitioning employees, their managers and coworkers in North America offering best practices through the process and providing support to those who have already transitioned.
These initiatives build on our work to implement non-discrimination workplace protections, domestic partner benefits, transgender-inclusive healthcare and community involvement with the LGBTQ+ community. They are just some of the reasons we received a perfect 100% score on the 2022 Corporate Equality Index (CEI) and were designated as one of the "Best Places to Work for LGBTQ+ Equality."
Now, as we recognize Pride Month in the United States, I am reminded of its true purpose: to honor the challenges and celebrate the triumphs of the LGBTQ+ community, especially in their pursuit of strong, supportive communities and a world where every individual can thrive.
This pursuit extends to the legislative arena, which is why we are proud to stand with other major companies as part of the Human Rights Campaign's (HRC) Business Coalition for Equality Act, a bill that bans discrimination based on sexual orientation and gender identity. Last year, we also signed the Business Statement on Transgender Equality and today, we're proud to reaffirm Ecolab's commitment to LGBTQ+ equality, both within our workplace and beyond, by signing the HRC's Count Us In pledge. This pledge supports deeper action and visibility of the issues facing our LGBTQ+ colleagues and communities.
Every day, I wake up as Christophe Beck, a father, husband, son, friend, colleague, ally and Chairman and CEO of Ecolab. I move through the world without fear of rejection or devaluation, a privilege not enjoyed by all. I still see LGBTQ+ friends, colleagues and neighbors fighting for what many of us take for granted. So this Pride Month, I encourage you to learn more about this incredible community and their pursuit of equality. Together, we can make a meaningful difference by celebrating diversity, advocating for equality, and continuing to build a world where everyone, regardless of their sexual orientation or gender identity, can thrive.