Water, climate and business resilience: Lessons learned at drinktec 2022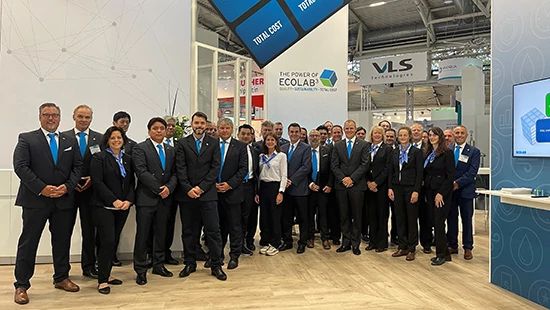 In the water-stressed reality of our world today, businesses are working hard to meet sustainability goals and ensure consistent quality while building greater resilience. As we rely more and more on digital capabilities, digitally enabled smart water management becomes an impactful tool in the fight against water and energy shortages.


These are just some of the points that Ecolab and Nalco Water ensured were front and center at drinktec 2022, the world's leading trade fair for the beverage and liquid food industry. I had the privilege to attend drinktec both as an exhibitor and a speaker, and I was thrilled to represent Ecolab to the 50,000+ visitors from 169 countries who gathered in Munich, Germany from Sept. 12–16, 2022.


I had the opportunity to present an educational session at drinktec alongside my colleague Emilio Tenuta, Senior Vice President and Chief Sustainability Officer for Ecolab. Our session was called "Digitally Enabled Proactive Water Management", and in it we addressed how to transform water management using digital tools and insights to achieve optimal water efficiency.


My fellow colleagues and I also heard many inspiring stories of organizations who were committed to improving their operations firsthand, and we shared our own experiences of how we help customers do the same.


In the spirit of more knowledge sharing and collaboration, I'd like to share three key takeaways from our experience at drinktec:


Businesses face increasing pressures to change how they operate as the world combats drought, energy crises and rising greenhouse gas emissions
In recent years, customers have made increased commitments to sustainability initiatives, be it from internal or external pressures—or more likely—a combination of the two. Now more than ever, companies are transforming their mentality. It's not just about the cost of resources such as energy and water; it's about availability of the resources needed to operate factories.
By 2030, the demand for fresh water is expected to exceed supply by over 56% and the underlying conditions behind this are not apt to change, so it's up to us to address water scarcity head-on.
This was a key takeaway from the session I presented at drinktec alongside Emilio. In our joint remarks, Emilio put it well: "In the past year, intense drought has caused extreme water risk conditions across Europe. When you consider this alongside the ongoing energy crisis, it's clear that the time is now to deliver on sustainability goals."
Ecolab is well-equipped to help businesses balance their business and sustainability goals
In a world of environmental challenges such as drought, energy crises and increasing greenhouse gas emissions, customers are relying on Ecolab as their partner in overcoming challenges to arrive at optimal solutions. The "Power of Ecolab3" messaging and the visual of a Rubik's cube helped to illustrate how to balance these interdependencies. One side of a Rubik's cube is not difficult to solve, but when you start in on the second side, it impacts the side you thought you had already solved. For example, strengthening a quality program could require more water or energy. However, Ecolab innovations like 3D TRASAR™ technology for CIP can help customers balance several interdependencies at once: quality, food safety, sustainability, productivity, asset protection, and total cost.
Drinktec was a catalyst for providing the space and environment to start the conversations around change-making. Marcus Ley, Vice President of Global Accounts for Food and Beverage Global Solutions commented on the importance of cleaning and sanitation within an evolving industry in this video: "When you look at the liquid foods, beverage, brewery, and dairy industry, you will observe that the single biggest obstacle to an economical production really is cleaning and sanitation," Ley said.
It's clear that our customers have many aspects to balance, from ensuring high quality and efficient production to meeting and exceeding their sustainability goals, all while working to retain talent and elevating their brand.
Conversations around transforming data into action are encouraging, motivating and innovative
During Ecolab's educational session at drinktec, Emilio and I offered a wide range of perspectives, incorporating both sustainability and operational standpoints to the topic of digital smart water management.


Those who attended our session left with a better understanding of how to be pragmatic in their approach to water management. Transforming data into action through digital innovations is a key to delivering meaningful water reduction results. Overall, attendees had strong receptivity to our 3D TRASAR™ technology platforms and were able to see that technology exists to support their operational, sustainability and business objectives simultaneously. Attendees also left with a stronger belief in Ecolab and its leadership; they saw tangibly that it is essential to utilize the best of technology and expertise to bring together a plan for execution.


It was energizing to see this conversation spark further curiosity and conversation; many attendees visited our stand immediately after the presentation and had follow-up conversations with our team. Being able to gather in-person again made a significant impact. I have never seen customers at an event more willing to take action. They came with a purpose and an agenda, bringing specific problems they were facing, knowing that Ecolab would have the innovative solutions to help them meet their goals.