Top Five Ways: Intelligence Makes an Impact on People, Planet and Business Health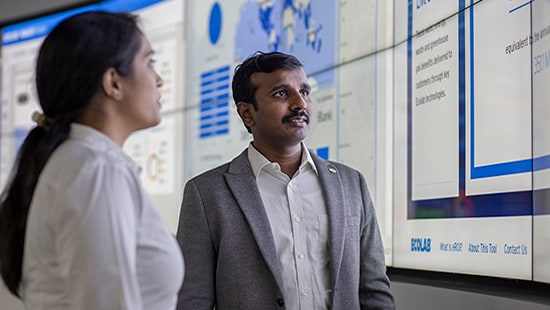 Ecolab Global Intelligence Center (EGIC) Pune India Hub
In the digital age, access to increasing amounts of information can lead to an overwhelming abundance of data for businesses. The Ecolab Global Intelligence Center (EGIC) helps cut through the data noise, so companies can act fast on the information that matters the most. The experts at the EGIC utilize real-time monitoring, along with advanced data intelligence, to deliver highly personalized support for Ecolab customers. Here are five ways that the EGIC helps companies make sense of data insights, so they can minimize potential risks and achieve their performance, profitability and sustainability goals.
Greater visibility at the enterprise, facility, and asset levels.
The water industry is increasingly adopting innovative technology that has the power to catapult companies' performance and efficiency. As companies are moving to implement smart water technologies, it is crucial for them to gain holistic visibility of plant performance. Utilizing a global network of connected technologies, the team at the EGIC leverages data from smart water technologies to provide holistic insights for companies so they can boost production and increase business opportunities.

Interpreting data at global scale.
Powered by advanced algorithms and predictive analytics, the ECOLAB3D™ intelligence platform helps fuel the recommendations made by the EGIC to help customers mitigate risk and maximize results. With access to global data that funnels through a secure, regionalized hub and spoke network, the EGIC provides secure, multi-lingual and regionally focused support so they can be an extension of Ecolab and customer teams.

Real-time monitoring.
Every year, plant shutdowns create significant cost for companies related to lost productivity. The EGIC focuses on real-time monitoring to help track system performance and minimize potential downtime. When the experts at the EGIC identify variability, they alert local service and customer personnel to mitigate risks and resolve system issues as quickly as possible.

Building performance benchmarks and maximizing results.
Insights provided by the EGIC can also help companies to make informed and data-driven decisions to enhance facility performance in the future. By leveraging the data collected from ECOLAB3D-powered solutions along with the consultative expertise of the EGIC and on-site field personnel, companies can build performance benchmarks for their daily operations.

Sustainability and profitability.
Businesses face the pressures of producing more using less water and energy, and many organizations have responded with ambitious climate and water targets. With greater access to data, companies can make strides towards sustainability goals without compromising business performance. The EGIC monitors operations to help ensure that facilities perform efficiently, sustainably and cost effectively.