Importance of Product Safety and Efficacy for Hand Hygiene Solutions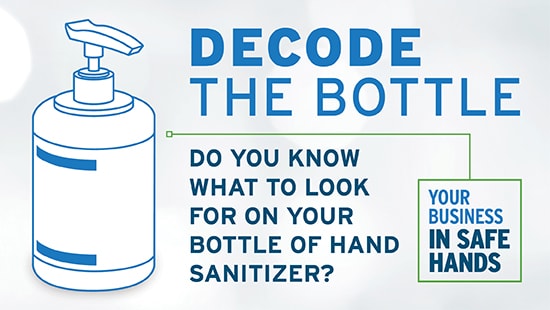 Caption: Decode the Bottle. Do you know what to look for on your bottle of hand sanitizer?
The FDA and other global regulatory agencies continue to crack down on product ingredients and manufacturing controls for hand hygiene solutions, including taking action against products formulated with methanol or 1-propanol. (1) As a global leader in infection prevention solutions and expertise, Ecolab is committed to providing the highest quality product to our customers.
Throughout the world, we provide a broad range of solutions to help reduce the spread of disease, including several hand hygiene products and programs, which help clean more than 40 billion hands annually.
Now more than ever, clean hands are safe hands. Proper hand hygiene is a critical component to preventing the spread of diseases like COVID-19, (2) and product quality, safety efficacy can make all the difference. As the COVID-19 pandemic continues and more companies introduce hand sanitizers into the market, it is important to know what to look for to identify safe and effective solutions. Don't compromise your health and safety with potentially toxic or expired and illegal product.
If soap and water are not readily available, the CDC recommends consumers use an alcohol-based hand sanitizer that contains at least 60% alcohol. (3)
Always refer to the product label before use.

Hand sanitizers sold in the United States must comply with strict labeling guidance.
Hand sanitizer must be labeled with an expiration date. It is not recommended to be used if that date has passed.
If the product supplier is following FDA guidance, the label on the bottle should include:

Drug Facts Label
Words: Active Ingredient
Warnings Section
Purpose of the Product
Name and address of the manufacturer

Look for clues of quality issues before and during use:

The product should look even throughout, and not have separation of color or opacity.
If the product produces an unexpected odor it could be a sign of impurities in ingredients.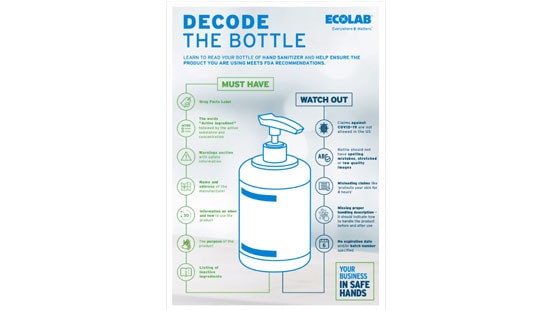 Decoding the Bottle: The Infographic