Ecolab Inc. Named to Working Mother and Working Dads 100 Best Companies Lists For 2020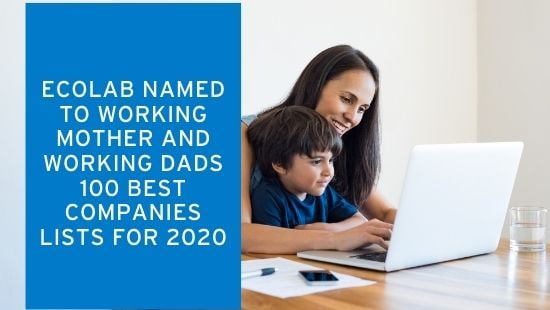 Company ranks high in flexible work policies and expanded family-friendly benefits
ST. PAUL, Minn.--(BUSINESS WIRE)-- Ecolab Inc. has been recognized on the Working Mother 100 Best Companies list, as well as the Working Dads 100 Best Companies list. This is the first time Ecolab has achieved these recognitions.
"We're continually striving to make Ecolab an even greater place to work through our policies and the resources and benefits we provide to our 45,000 associates," said Laurie Marsh, Ecolab executive vice president and chief human resources officer. "Supporting working parents and caregivers is a key part of that work. We are thrilled to be recognized for this ongoing commitment to our team."
Working Mother evaluates companies based on their parental leave and childcare benefits, workplace representation, advancement programs and flexible work options. This year's survey revealed that top employers are continuing to move toward gender-neutral parental leave. Five years ago, 100% of the 100 Best Companies had paid maternity leave, but few offered gender-neutral leave. Today, almost a quarter – including Ecolab – offer gender-neutral paid parental leave.
In addition to its gender-neutral paid parental leave policy, Ecolab was recognized for the flexible work options offered to associates. These benefits are available to all U.S. associates and allow employees to develop alternative work arrangements that fit their unique needs. The company also was recognized for its expansion of benefits for U.S. associates – including benefits that cover ABA autism therapy, fertility treatments and adoption support.
"The resources we provide to our associates help them manage their personal and professional responsibilities, and we are continually evaluating these benefits to make sure they meet the current needs of our associates," said Marsh. "For example, due to the added stresses and instabilities caused by the COVID-19 pandemic, we recently introduced new parent and caregiver resources to support associates who are balancing the unique demands of working remotely with distance learning, childcare and eldercare."
About Ecolab
A trusted partner at nearly three million commercial customer locations, Ecolab (NYSE: ECL) is the global leader in water, hygiene and infection prevention solutions and services. With annual sales of $13 billion and more than 45,000 associates, Ecolab delivers comprehensive solutions, data-driven insights and personalized service to advance food safety, maintain clean and safe environments, optimize water and energy use, and improve operational efficiencies and sustainability for customers in the food, healthcare, hospitality and industrial markets in more than 170 countries around the world. www.ecolab.com
Follow us on Twitter @ecolab, Facebook at facebook.com/ecolab, LinkedIn at Ecolab or Instagram at Ecolab Inc.
(ECL-C)
View source version on businesswire.com: https://www.businesswire.com/news/home/20200915005903/en/
Lea Curtes-Swenson
651-250-4724
MediaRelations@Ecolab.com
Source: Ecolab Inc.