A Letter from Ecolab's President and Chief Executive Officer, and Executive Chairman
Ecolab is Well-Positioned to Solve the Challenges of Today and Tomorrow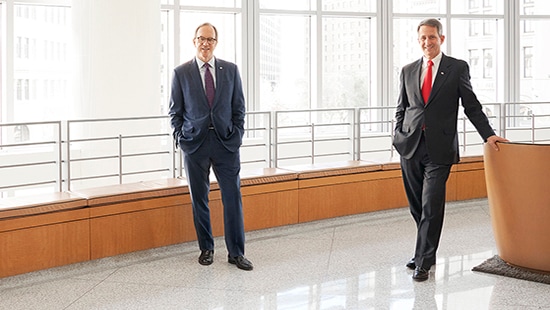 Executive Chairman Douglas M. Baker, Jr., and President and Chief Executive Officer Christophe Beck.
Ecolab has released its 2020 Annual Report, which highlights the company's performance and positive impact during the year. The annual report includes the following letter from Ecolab President and CEO Christophe Beck and Executive Chairman Douglas M. Baker, Jr.
In a wildly unpredictable year, the Ecolab team excelled when our customers and society needed us most. We are exceptionally proud of how our team rose to the challenges of the COVID-19 pandemic, took care of each other and implemented new and innovative ways to deliver essential expertise and solutions for our customers. It was a year that tested us on many fronts, but one that showed the true strength of the Ecolab team, our business model and our ability to positively impact the world.
Global need for our critical solutions and expertise yielded very strong sales and income performance in our Healthcare & Life Sciences segment and steady sales and strong income growth in our Industrial segment. Overall, 80% of our business showed good sales and strong income growth, partially offsetting impacts to our Institutional business from the unprecedented global declines in traffic at restaurants, hotels and entertainment venues.
Providing essential expertise and solutions to combat COVID-19
From the onset of the pandemic, we focused on two priorities: protect the safety of our people and safely serve our customers. To protect our people, we enhanced our stringent cleaning and sanitizing protocols, provided personal protection equipment and implemented social distancing. We also supported our team through pay protection and expanded healthcare coverage.
These actions helped ensure our ability to safely serve customers and meet increased demand for our critical cleaners, disinfectants and hygiene solutions, which rose five- to 15-times over normal volumes. We increased production capacity for these core products and accelerated the use of remote monitoring and servicing technologies for customer sites with restricted access. Our R&D and Regulatory teams worked quickly to ensure that our products were recognized by governmental authorities for their ability to fight SARS-CoV-2, the virus that causes COVID-19. Ecolab offers one of the broadest product portfolios proven to kill SARS-CoV-2, including our Sink & Surface Cleaner Sanitizer, the first registered by the U.S. EPA to kill the virus in 15 seconds.
The need for our infection prevention and public health expertise and solutions has never been greater, and the Ecolab team delivered when the world needed us most.
Enabling Customers to Restore Consumer Confidence
As the global economy reopens, businesses must maintain clean, safe and healthy operations to gain consumer trust. To support our customers, we launched Ecolab Science Certified™, a science-based program that helps deliver a higher level of cleanliness by combining advanced chemistries, comprehensive public health procedures, training and auditing to help consumers feel more confident to return to the places where they eat, stay and shop.
Through Ecolab Science Certified and other innovative solutions, we are well positioned to support the global recovery and to help customers thrive as higher levels of hygiene are expected.
Accelerating Our Environmental, Social and Governance (ESG) Performance
Ecolab is a recognized leader in ESG performance, and we keep striving for greater positive impact. In 2020, we launched aggressive 2030 Impact Goals, which will guide us as we expand our impact with customers, accelerate sustainable outcomes within our operations and live our values in our workplace.
By 2030, we aim to restore more water than we consume in water-stressed areas, halve our carbon emissions and attain 100% renewable electricity use. We'll also continue to support a diverse and inclusive workforce by ensuring gender pay equity globally and increasing management diversity. We also set aggressive goals to help customers conserve water, ensure high-quality food, provide safe medical care and become carbon neutral.
Ecolab also joined with others to drive positive action. We signed on to the Business Ambition for 1.5oC, a growing group of companies committed to reducing carbon emissions by 50% by 2030 and to net-zero by 2050. We also were a co-founder of the Water Resilience Coalition, a corporate-led initiative to drive collective action and net positive water impact by 2050.
Maintaining Our Focus on the Future
While we successfully managed the impacts of the pandemic, we kept our focus on the long-term and maintained the investments that will enable us to capitalize on future opportunities, including new chemistry platforms, core infrastructure improvements and global roll-out of digital technologies to enhance field service speed and effectiveness, customer experience and operational performance. Our new digital field tools enable sales, remote service and process efficiencies, and will serve as the foundation for our sales and service capabilities moving forward.
Our market share continued to grow, highlighted by record new business wins. We continued to expand opportunities through new business lines, including one focused on serving data centers as well as expanded capabilities in animal health following our acquisition of leading biosecurity solutions provider CID Lines.
To enable greater focus on our core businesses, in June, we completed the separation of our Upstream Energy business, which combined with Apergy Corporation in a tax-free transaction to create ChampionX, a leader in oilfield solutions.
During the year, Roberto Inchaustegui retired after 39 years with Ecolab. Bobby held leadership positions in our Global Services and Specialty, Food & Beverage, Institutional and International divisions, and his passion for building businesses and serving our customers inspired us all. We also said farewell to Alex Blanco, who significantly shaped our Supply Chain performance and culture, and to Judy McNamara, who was instrumental in our ability to effectively navigate the global tax landscape.
With Doug retiring as chief executive officer, Christophe, previously our president and chief operating officer, was elected to the role, effective Jan. 1, 2021; Doug remains chairman of the board. While leadership responsibilities have changed, the fundamentals that have driven Ecolab's success will remain constant: we will continue to grow our company and our impact, and do so the right way. We'll continue to invest in our key differentiators and business drivers – people, products and digital – to drive even better results and value for our customers and ultimately, our shareholders.
Well-Positioned to Capture Growth
The pandemic has shown the importance of what we do, and how we do it, for the wellbeing of our people, our customers and the world. We demonstrated the value of Ecolab's product and service expertise, delivered essential solutions and strengthened customer relationships. And we reinforced our position as the global leader in water, hygiene and infection prevention.
We are proud of what the Ecolab team accomplished in 2020 and enter 2021 a stronger company. With heightened focus on hygiene globally, we are responding with unmatched expertise, breakthrough solutions and a brand that inspires trust. With water and climate challenges becoming more urgent, we're uniquely positioned to help customers achieve their sustainability goals at a high financial return. And with an unbeatable global team supported by innovative solutions and digital technologies, we look toward the future with great confidence.