Ardagh Group is Digitizing Its Water Use at U.S. Glass Production Facilities with Water Flow Intelligence
Ardagh Group facility
The sustainable packaging company is working with Ecolab to implement Water Flow Intelligence to understand its water usage and improve operations.

Water Flow Intelligence uses IoT-enabled devices and cloud connectivity to transmit data to the ECOLAB3D™ intelligence platform where Ardagh is monitoring water use in real time.

Ardagh has implemented Water Flow Intelligence at two U.S. glass production facilities and plans to expand the program to at least four more in 2021, and eventually to all of its North America locations.

Ardagh Group, a global supplier in sustainable packaging solutions, has implemented Water Flow Intelligence at two of its U.S. facilities to bring new insights and analytics on water usage to its glass container production operations. A subsidiary of the global $7-billion company, Ardagh Glass Packaging – North America operates 14 facilities in the U.S. and produces a variety of 100-percent and endlessly recyclable glass bottles and jars for food and beverage brands, and operates 14 facilities in the U.S.

The company's strategy to partner with Ecolab and adopt new IoT technology reflects Ardagh's efforts to remain on the cutting edge of sustainability in the packaging industry. Its goals include reducing potable water use, recycling more water, improving efficiency, reducing operating costs and maintaining product quality.

Water Flow Intelligence is a digital service that provides real-time visibility of water usage at the enterprise, plant and asset levels to help achieve sustainability goals. It is built on the ECOLAB3D intelligence platform, utilizing IoT-enabled devices to gather and transmit detailed data via secure, cloud-based connections.

"With Water Flow Intelligence, we are beginning to understand what impact we have with our water operations," said Gene Siler, Manager, Plant Engineering – Operational Excellence for Ardagh Glass Packaging – North America. "To reduce water usage, you have to be able to measure it. We believe we are now on the right track to truly understand our consumption."

Siler is part of an Operational Excellence Group, which looks three to four years into the future and optimizes Ardagh's operations. He worked with Ecolab to implement Water Flow Intelligence at two U.S. glass production facilities as part of a pilot program. He is now able to visualize water operations at those two facilities through a user-friendly dashboard, which will enable his team to make strategic process improvements moving forward.

"Our Operational Excellence Group focuses on data," Siler said. "Gaining insight into this data represents a huge opportunity. Now that we can visualize it all, we're starting to ask the right questions. We believe Ardagh has the potential to save millions of gallons of water each year."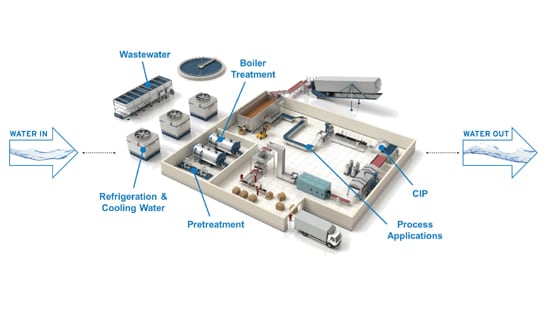 Water Flow Intelligence uses IoT to digitize water operations for tracking and analyzing, which gives companies a holistic view of their water use across industrial operations.

A Seamless Process

One of the first steps was mapping the Ardagh facilities, and it was from these maps that the process to implement Water Flow Intelligence began.

"The company reached out to us to map out its water processes and identify where smart meters would have the biggest potential to measure water impact," said Blaine Krause, senior corporate account manager at Ecolab. "The process began with installing smart IoT meters and transmitting data via a secured cloud connection to be analyzed by Water Flow Intelligence. After about three weeks of refining the data and making adjustments, Ardagh began to see actionable insights into its water operations."

"The dashboard is really easy to use and the data is live," Siler said. "It has been exciting to see something visually documented that you view on a daily basis. We plan to keep this information in front of our leadership and make it a part of our weekly reporting."

Several operations are being monitored, as water is vitally important to glass container production. Examples include scoop and gob cooling, furnace and key production equipment, temperature stabilization, shear spray, air compression and air scrubbing. Learn more about the Ardagh glassmaking process here.

"There is a huge opportunity in both limiting and reusing the water in our manufacturing process," Siler said. "We can fix our processes and we also can fix our infrastructure for reuse capabilities."

Sustainable Focus

Although Ardagh is implementing Water Flow Intelligence to become more efficient and reduce operating costs, sustainability and the impact of its overall water footprint are the main drivers of the new strategy.

"We are making these efforts because sustainability is at the core of what we do," Siler said. "Manufacturing facilities are among the leading users of water. Optimizing our water use is one way we can be kinder to the environment, and it's the right thing to do."

Currently, Ardagh is piloting Water Flow Intelligence at its Pevely, Missouri and Henderson, North Carolina locations, with plans to expand to at least four more facilities in the short term, completing as many as possible later in 2021. Ardagh hopes to eventually expand the service to all of its Ardagh Glass Packaging – North America locations.

"Innovation is constantly moving forward and we have to keep our eyes open to emerging technologies," Siler said. "Through our partnership with Ecolab, we have been able to get in front of these changes. We think this is the way to get better as a company and have a great partner in Ecolab that really understands our business."
________________________________________________________________________________________________________________________________
About Ecolab
A trusted partner at nearly three million customer locations, Ecolab (ECL) is the global leader in water, hygiene and infection prevention solutions and services. With annual sales of $12 billion and more than 44,000 associates, Ecolab delivers comprehensive solutions, data-driven insights and personalized service to advance food safety, maintain clean and safe environments, optimize water and energy use, and improve operational efficiencies and sustainability for customers in the food, healthcare, hospitality and industrial markets in more than 170 countries around the world. www.ecolab.com

Follow us on Twitter @ecolab, Facebook at facebook.com/ecolab, LinkedIn at Ecolab or Instagram at Ecolab Inc.
Ardagh Group is a global supplier of infinitely recyclable metal and glass packaging for the world's leading brands. Ardagh operates 57 metal and glass production facilities in 12 countries, employing more than 16,000 people with sales of approximately $7bn.