Driving Delivery Safety with Ecolab Verified Delivery Program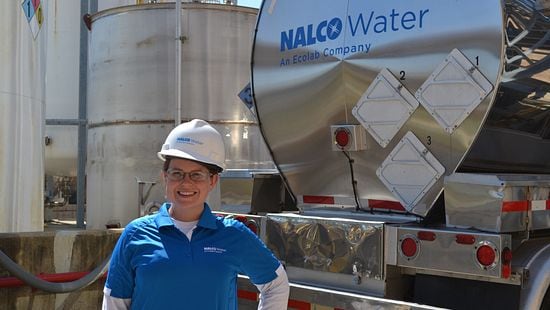 Goal Zero – it's our ambition to protect what matters most, our people. From the way we operate, to the products we develop, we strive for zero incidents so that our 47,000 associates, and the 3 million customer locations that they support, can safely serve their communities. Our supply chain operations are critical to our safety culture. Nalco Water, an Ecolab company, makes over 100,000 chemical deliveries each year through our dedicated private fleet alone. Safety across the delivery process is critical and requires accuracy at multiple touchpoints.
The Ecolab Verified Delivery (EVD) program focuses on reducing the risk of wrong tank deliveries by ensuring – or verifying – accuracy across all touchpoints. The program is designed to support the chemical transfer process and uses digital technology to record critical information at several stages from truck loading to product activation at the customer site. The EVD mobile app gives drivers and customers an accessible, secure way to confirm the product load, departure and arrival locations, as well as confirmation of receipt. The app also empowers drivers with stop-work authority and gives them a mechanism to record why they needed to stop work, such as site safety. By using EVD, Ecolab can help ensure that our customers receive the right product in the right tank at the right time, to keep delivery workers and customers safe.
The EVD program has already made a difference by averting and mitigating situations that could have resulted in a wrong tank delivery. Last fall, the program helped a carrier identify and avoid delivering a tank in the wrong location at a customer facility. In this specific circumstance, the driver arrived to offload a product labelled, "PERFORMANCE XXL ALK," at the customer's location. The receiver directed the driver to a tank that read, "PERFORMANCE XXL Detergent," and the EVD app gave the driver an alert when scanning the tank label. Using EVD's remote verification steps, the driver was able to call-in for support and confirm that this was not the correct tank for the delivery.
Programs like EVD help enhance customer outcomes in the safest way possible. When applied with other supply chain processes, such as our Automated Inventory Management (AIM) program for predictive replenishment and ordering, Ecolab aims to serve customers safer, faster, and more effectively. Through transformative innovation, Ecolab's supply chain is positioned to help customers build safe, resilient, and sustainable operations well into the future.