Ecolab Partners with The Home Depot to Launch Consumer Retail Product Line
For the very first time, Ecolab has launched a new consumer retail product line, Ecolab® Scientific Clean, that offers cleaning solutions for commercial, industrial, and residential use, available exclusively online and in stores at The Home Depot.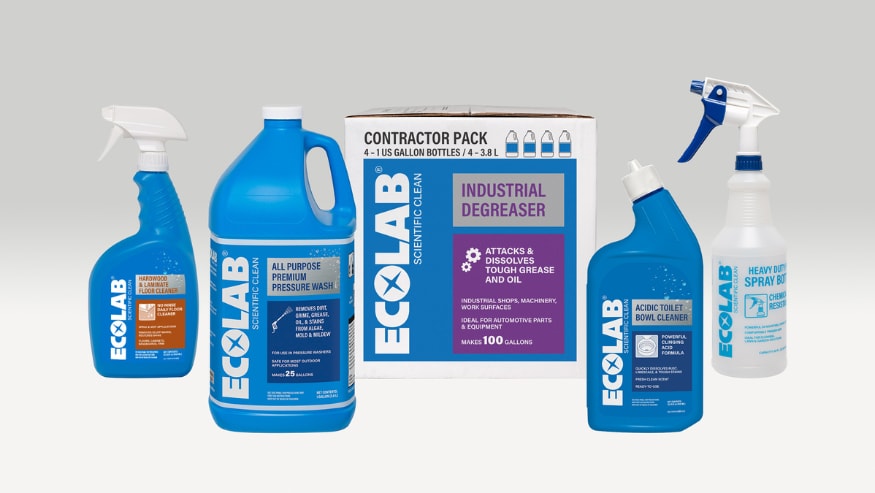 Ecolab® Scientific Clean product line.
For the past 100 years, Ecolab has partnered with professionals to make the world cleaner, safer and healthier. From hospitals and restaurants, to manufacturing and production facilities, our science-backed cleaning solutions have been hard at work – and behind the scenes.
Ecolab has now partnered with The Home Depot, a home improvement retailer with more than 2,300+ stores throughout North America, to launch of a new consumer retail product line, Ecolab® Scientific Clean, that offers cleaning solutions for commercial, industrial and residential use that is available exclusively at The Home Depot.
"Every day, in countries all over the world, restaurants, hospitals and hotels put their trust in Ecolab products to keep their kitchens, operating theaters and guest rooms clean. For the very first time, our new Ecolab Scientific Clean products will bring 100 years of expertise and innovation to Home Depot customers."
Darrell Brown
President and Chief Operating Officer
The new line of Ecolab Scientific Clean products across four categories – degreasers, pressure washer concentrates, floor care, and bathroom cleaners – is now available at The Home Depot. Ecolab's science-backed products, proven to get the job done right the first time, are a perfect fit for not only professionals in the home improvement industry, but also DIY consumers.
"We are excited to welcome Ecolab, one of the most well-known and trusted brands in delivering high quality sanitation products and services in the industry, to The Home Depot and are proud to offer the latest in cleaning technology to both our Pro and DIY customers," said Jeff Kinnaird, executive vice president of Merchandising. "Having Ecolab Scientific Clean on our shelves not only provides our Pro customers to deliver a professional clean, but it allows our DIY customers to bring that cleaning power into their homes, as well."
By helping to protect the world's most recognized brands, Ecolab's partnership with The Home Depot demonstrates the company's continued commitment to help safeguard businesses and communities around the world.
For more information, visit www.homedepot.com/ecolab.