Fostering Inclusion and Honoring Service on Memorial Day
Ecolab aims to build a more inclusive, supportive environment for military service members.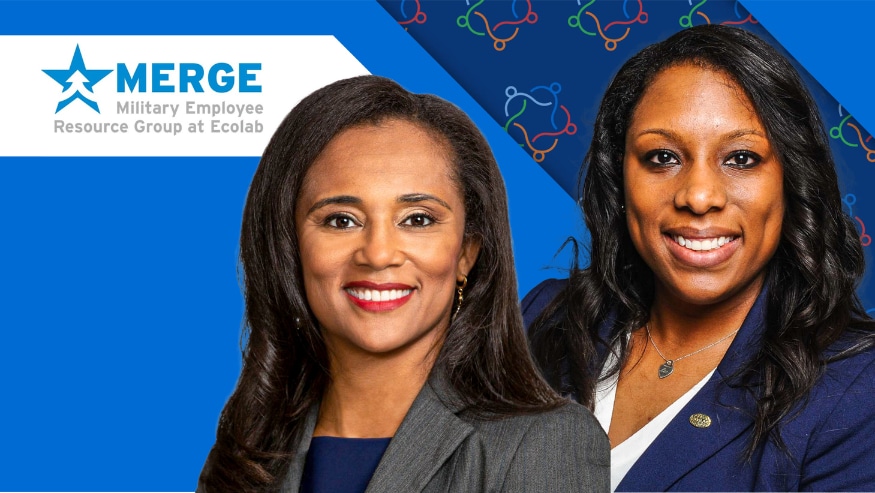 Executive Sponsor, Lanesha Minnix, and Chief of Staff and Field Engagement, Elizabeth Waples, for our military employee resource group, MERGE
For Elizabeth Waples, joining the military was about conquering fears, doing things she never thought possible, taking on new responsibilities and growing as a teammate and leader.

"I learned how to work better as part of a team. And it really helped ground me and give me that level of seriousness that I needed to evolve my leadership," said Elizabeth, district manager, Institutional, and chief of staff and field engagement for the Military Employee Resource Group at Ecolab (MERGE). "It pushed me to the limit. The things I had to go through, I can't even put it into words."

Her experiences and expertise gained through eight years in the Army National Guard make Elizabeth a valuable contributor to Ecolab's growth and success today. She is among more than 1,000 military veteran associates within our company. Through MERGE, we provide a platform for this community to come together, share perspectives, overcome challenges and ensure a culture of support and inclusiveness that allows veterans to be their best.

In recognition of Memorial Day, Ecolab aims to amplify the ongoing efforts of MERGE and the value of veterans, said Lanesha Minnix, executive vice president, general counsel and corporate secretary, who also serves as the group's executive sponsor.

"It's an opportunity to think about how we can continue to support our veterans, both within Ecolab and frankly the broader community."

Both Lanesha and Elizabeth offer their thoughts on how to do that, along with ways Ecolab is already leading the way for military personnel post-service.
Lanesha Minnix Executive Vice President, General Counsel and Corporate Secretary Executive Sponsor of MERGE
What motivated you to become an executive sponsor for MERGE, and what do you see as your role in supporting this community within Ecolab?

My husband is a veteran who served for 12 years in the Navy, and I have a long family history of military service. I'm quite proud of that.

I'm still new to the executive sponsor role, but my aim is to help our employee resource group (ERG) enterprise leads with strategy and engagement, and to support our ERG leadership and associates. We have 500 members in MERGE across six chapters and I think there's an opportunity to bring more associates into the group. It's important to share the work and the service that our MERGE associates have done for the military and what their experiences bring to Ecolab.

How can we use Memorial Day as an opportunity to raise awareness and support for our military community at Ecolab?

Memorial Day is a good day to get people to stop and remember those who have given their lives in service to the military and to honor and recognize that service. It is also a good day to shine a spotlight on the many veterans who work alongside us every day.

Part of what really drove me and inspired me in my MERGE involvement was hearing stories from our associates who are either currently serving as reservists or have been deployed and came back, and how welcoming Ecolab has been for them. I think there's a real opportunity for MERGE to tell that story more broadly.

It's also an opportunity to continue talking with our veterans about engagement, retention and how we can make sure that they feel really included and can bring their whole authentic self to the workplace.

What steps can we take to create a workplace culture that values and respects our military personnel and their families, not just on Memorial Day but year-round?

It starts with giving all associates more opportunities to learn more about their peers. MERGE is a great vehicle for that. Many of us might be surprised by how many of our colleagues actually served in the military at some point in their career. Creating opportunities to talk about that and learn from our colleagues about their experiences is important.

I also think our military veterans are uniquely positioned to be successful at Ecolab. If you think about our values, about what is important to us, you learn a lot of skills in the service that align with those: leadership, collaboration, teamwork, problem solving, and so many more things. I think there's an opportunity to really grow our veteran association population and to support our current veteran associates for further career opportunities within Ecolab.
Elizabeth Waples District Manager, Institutional and Chief of Staff and Field Engagement for MERGE
How do you work with MERGE to ensure that their needs and concerns are being heard and addressed by the broader organization?

The first thing is networking — using my current leadership role and my own community to support the growth and expansion of MERGE.

Second is planning. During our MERGE enterprise leadership meetings, I'm not only listening to concerns, I'm also suggesting how to engage our members more consistently. And that's one of the main things we've been focusing on recently — really grounding our membership and the leaders of our chapters to make sure all of our members are included and represented. When people join, they're added to our Microsoft Teams page and we can really streamline communication. So, no one misses anything, regardless of if they've been a part of MERGE for years or they're brand new to the organization.

Within MERGE, we're also working to bridge the gap between military and civilian culture and create a common culture of understanding. Ideally, engagement starts when a new service member joins the company and continues throughout their career. They're assigned a mentor, enrolled in MERGE, and then put on our enterprise leadership team's radar for monthly and quarterly check-ins to help support their personal and professional development. We're really surrounding everyone and making sure that everybody is heard and their concerns are addressed.

In your experience, what are some of the biggest challenges faced by military personnel transitioning to civilian careers, and how can our organization better support this process?

First, it's important to know that when a service member transitions out of the military, they're integrating into a different world. An organization must understand that military associates are run by rule and order, and they are trying to balance multiple identities at once — service member, civilian, spouse, parent, friend and more. Both parties must work together to support these major life events.

If an associate is fresh out of the military, they tend to stay militarized in how they do their job, how they address problems. Most times they're going to address problems in a life-or-death manner, because that's how they were taught. That's something a civilian culture needs to be aware of. On the other hand, a retired service member who has had a couple of civilian jobs might not have as large of a communication gap. If we provide inclusive training in the civilian world about how to include and welcome associates who have served in the military, it would help solve these communication problems.

Second, service members often face challenges at home. When you have a service member who is transitioning out of the military, it's very difficult for them and their families to remain stable. For us as an organization, being able to provide resources not only for the employee, but for their family is key. Surrounding that soldier with additional support puts less pressure on them to figure everything out all at once.

Third is finding the right job and making the transition. It's good for companies to get involved early — attend job fairs on military bases or offer internships prior to full-time employment — as sometimes it might take a year to transition out of the military. Creating job postings that are in line with military occupations is also helpful, as sometimes it appears that nothing is applicable when there are actually many jobs that would be a good fit.