Minnesota SAF Hub Launches First-of-Its-Kind Coalition To Scale Sustainable Aviation Fuel
Growing SAF Hub seeking new members to accelerate progress.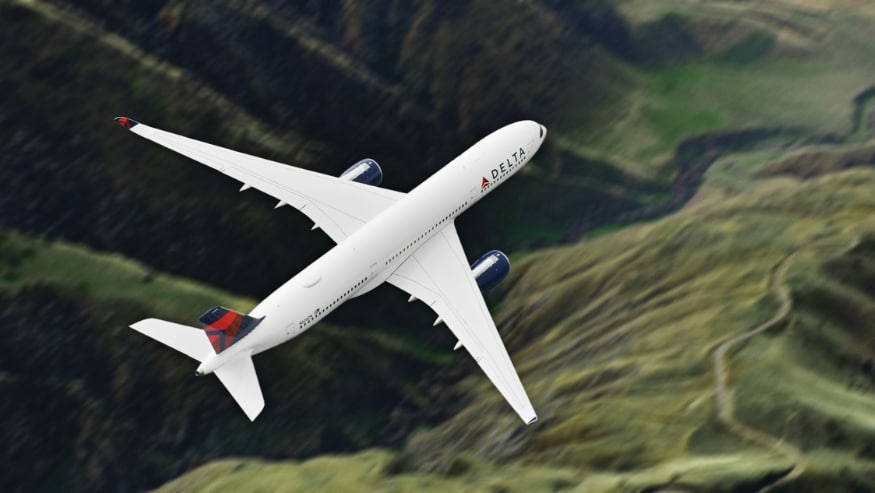 Image provided by Delta Air Lines
MINNEAPOLIS, Minn. – August 29, 2023-- A first-of-its-kind coalition is launching in Minnesota to scale sustainable aviation fuel (SAF) with the urgency commercial aviation needs to reach net zero by 2050.
Through the GREATER MSP Partnership, Bank of America, Delta Air Lines, Ecolab and Xcel Energy have established the Minnesota SAF Hub – the first large-scale SAF Hub in the U.S. with unparalleled collaboration among key players across the value chain committed to scaling SAF production to replace conventional jet fuel. These anchor members are joined by other leading institutions, including the State of Minnesota, to implement an ambitious shared strategy for aggressively decarbonizing the airline industry.
This multi-year strategy is rooted in commitments to:
Environmental and water stewardship at all points along the SAF value chain beginning with feedstock – not at the airport – and at every step of the SAF production process.
Producing affordable, low-carbon SAF by developing an integrated value chain that stretches from production source and processing to refining, blending and use at Minneapolis-Saint Paul International Airport (MSP).
Fostering adoption of innovative solutions and technology breakthroughs to accelerate the SAF transformation journey and scale up commercial progress.
Supporting university and private-sector research and collaboration to address scientific and technical hurdles associated with the commercially viable production of ultra-low carbon SAF from regenerative agricultural inputs.
SAF is the best decarbonization lever the aviation industry has in the near- to mid-term on its journey to net zero. While airlines globally have committed to purchasing billions of gallons of SAF over the next few decades, there isn't enough being produced currently to fuel commercial airlines globally for a single day.
Third on the World Economic Forum's list of Top 10 Emerging Technologies of 2023, SAF is a safe, fully certified jet fuel that can be used in today's aircraft engines and transported via existing pipeline infrastructure. Produced from many sources including renewable feedstocks and used cooking oil, SAF can reduce lifecycle carbon emissions of aviation by more than 80% - meaning exponentially fewer emissions from SAF than traditional jet fuel.
After eight months of behind-the-scenes collaboration, the coalition will share its ambitious objectives today at the North American SAF Conference and Expo in Minneapolis. Progress to date includes establishing a shared, multi-phase strategy, securing nation-leading financial incentives from the State of Minnesota, and building a growing coalition of Minnesota-based organizations including the anchor companies, State of Minnesota, the Metropolitan Airports Commission, the University of Minnesota, and knowledge partner McKinsey & Company.

A Phased Approach to Scaling Sustainable Aviation Fuel Production in Minnesota
The Minnesota SAF Hub coalition is deploying a multi-phased approach to scaling production that begins with promoting the flow of SAF into the state and extends to supporting a robust and flexible SAF production infrastructure. The coalition is balancing pragmatism and ambition by using existing technologies to make progress as quickly as possible, while accelerating the technologies with the greatest carbon reduction potential.
Immediately – Scale Quickly Using Existing Feedstocks and Facilities
Bring SAF flow into Minnesota: As early as 2025, the coalition aims to bring commercial-scale volumes of affordable, low-carbon SAF to the Minneapolis-Saint Paul (MSP) International Airport from out of state. Minnesota's SAF tax credit, passed by the Minnesota Legislature and signed into law by Governor Walz, makes Minnesota among the most attractive states in the nation to produce and blend SAF.
Engage SAF Producers: The coalition is working with current and prospective producers to increase SAF production in Minnesota in quantities required to meet the coalition's existing emission reduction goals.
Expand the Coalition: The coalition will welcome additional SAF producers, investors, corporate partners, and broader value chain players.
Next – Accelerate Greenhouse Gas Reductions through Innovations in Agriculture
New Jet Fuel Production: SAF production begins in Minnesota, including the use of new and existing infrastructure and assets with a focus on transforming Minnesota ethanol to jet fuel.
Regenerative Agriculture: The coalition will work to further reduce the carbon intensity of SAF by incorporating carbon capture and regenerative agricultural practices and crops.
On the Horizon – Maximize Scale and Greenhouse Gas Reductions with Advanced Technology
The coalition will leverage a flexible and data-driven approach as SAF technology and research matures. Power-to liquid, for example, is a pathway that generates SAF from clean hydrogen and carbon that may allow greater emissions reductions and fewer constraints on supply. Minnesota is well positioned to be a global competitor in the production of Power-to-liquid, given its ready access to affordable renewable resources, particularly wind, and proximity to bio-based carbon sources.
The Minnesota SAF Hub will accelerate commercial scaling of SAF. Strong policy support is complemented by a rich agriculture landscape, economical renewable energy sources, research and development capabilities, existing aviation fuel infrastructures and strong demand for jet fuel at MSP where Delta, alone, uses around 250 million gallons annually to power its operations – one of its largest global hubs. Through the combined efforts of this coalition and corporate partners, Delta aspires to use SAF for more than 10% of its fuel at MSP by 2027, with sights set on 50% by 2035.
To achieve its ambitious volume targets, the Minnesota SAF Hub coalition is actively recruiting forward-thinking producers and investors similarly committed to establishing Minnesota as a leader in sustainable aviation. We are seeking to assemble a collection of players along the value chain at a scale that has not yet been achieved anywhere in the world. Interested parties from around the world are encouraged to contact GREATER MSP directly to learn more.

Leaders Focused on Coalition's Critical Mission
"Our SAF Hub will accelerate progress toward decarbonizing the airline industry nationally while also creating thousands of good jobs across Minnesota," said president and CEO of the GREATER MSP Partnership, Peter Frosch. "It is good news that some of the world's most innovative companies are combining forces to build SAF production at the scale the market demands and at a pace the climate requires. Together, we are recruiting the next set of partners to join this effort to build an integrated SAF value chain in the center of North America's economy."
"The Minnesota SAF Hub is the game changer aviation needs to start producing SAF at the volumes required to meet our aggressive goals," said Delta CEO, Ed Bastian. "This coalition of heavy hitters from across the SAF ecosystem are collaborating to rapidly scale production, demonstrating the power of partnerships to meet our shared goal faster than any of us could do on our own."
"We know from experience that the path to building a sustainable future requires collective action," said Ecolab chairman and CEO, Christophe Beck. "It was important for Ecolab to join other industry leaders on day one of the Minnesota SAF Hub, as our process innovation and technology expertise can help the coalition scale to meet the challenge and opportunity of sustainable aviation."
"SAF is a next-generation technology that will help us advance our vision of providing net-zero energy to our customers by 2050," said chairman, president and CEO of Xcel Energy, Bob Frenzel. "We're excited to support carbon reductions in the transportation sector by supplying carbon-free electricity and clean fuels like hydrogen and renewable natural gas, spurring commercial-scale SAF production in our headquarters state of Minnesota. This coalition also allows Xcel Energy to explore other end uses for SAF, including as a clean fuel for power generation and home heating."

About Ecolab
A trusted partner for millions of customers, Ecolab (NYSE:ECL) is a global sustainability leader offering water, hygiene and infection prevention solutions and services that protect people and the resources vital to life. Building on a century of innovation, Ecolab has annual sales of $14 billion, employs more than 47,000 associates and operates in more than 170 countries around the world. The company delivers comprehensive science-based solutions, data-driven insights and world-class service to advance food safety, maintain clean and safe environments, and optimize water and energy use. Ecolab's innovative solutions improve operational efficiencies and sustainability for customers in the food, healthcare, life sciences, hospitality and industrial markets. www.ecolab.com

Follow us on LinkedIn @Ecolab, Twitter @Ecolab, Instagram @Ecolab_Inc and Facebook @Ecolab.
Media Contact:
Nigel Glennie
Ecolab Media Relations
Phone: +1-651-250-4724