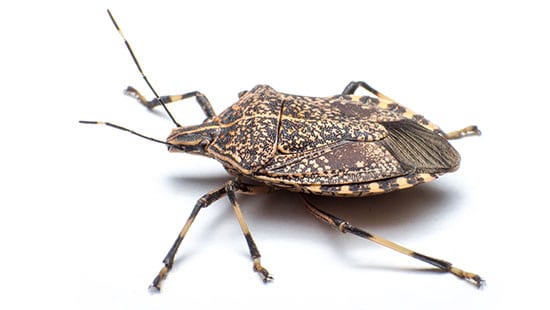 Brown Marmorated Stink Bug (BMSB)
Commercial BMSB Fumigation
The Brown Marmorated Stink Bug (BMSB) is regarded as a nuisance pest that affects many plants, tree nuts and fruits. Adults are approximately 12-17mm long, mottle brown colored and shield shaped. Native to Eastern Asia, it's recently been introduced to North America and Europe and is already impacting agriculture.
Australia and New Zealand Seasonal Measure for BMSB
Soon after the arrival and spread of the BMSB across North America and Europe, the Quarantine Departments of Australia and New Zealand took action, stating that any target high-risk or target risk goods manufactured in, or shipped from the United States, and/or vessels that berth at, load or transship from the United States between September 1st and April 30th are subject to BMSB seasonal measures and must be treated accordingly.  These actions have been put in place to mitigate the risk of the BMSB spreading and causing damage to agriculture products.  
Expert Fumigation Across the Nation
Ensure Delivery of Your Goods and Meet Seasonal Measures

Related On-Demand Webinars
No related blog articles were found.
Our Fumigation Offerings
Learn more about all our fumigation offerings
No related pest elimination offerings were found.