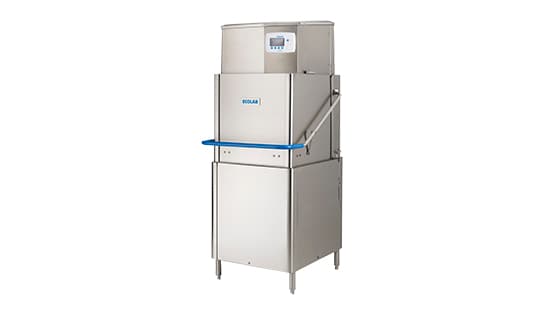 EHT-V Warewash Machine for Quick Service Restaurants
The EHT-V Wareware Machine is the perfect choice for quick service restaurants that need a high-quality, reliable warewashing system that can keep up with the demands of a fast-paced environment. Designed to deliver the best results at the lowest total cost, this state-of-the-art machine reduces your reliance on operators through the integration of machine, products, and automated machine procedures.
Ventless High Temperature Warewashing System
The EHT-V Warewash Machine helps minimize costs with the heat recovery and high pressure rinse technology. Heat recovery enables ventless operation that provides customer savings in both exhaust installation and energy savings. While the high pressure rinse technology reduces water and energy costs by 40% compared to a standard high temp door machine.*
The EHT-V Machine provides outstanding one-pass warewashing results. It maximizes food safety with product and temperature lockouts to bring a new level of protection to machine warewashing ensuring each rack is properly cleaned and sanitized at the correct temperature.
Automated one-touch push button cleaning and delime cycles reducing reliance on employees to properly follow procedures.
*Savings based on comparison to standard hi temp machine — 75 racks/day