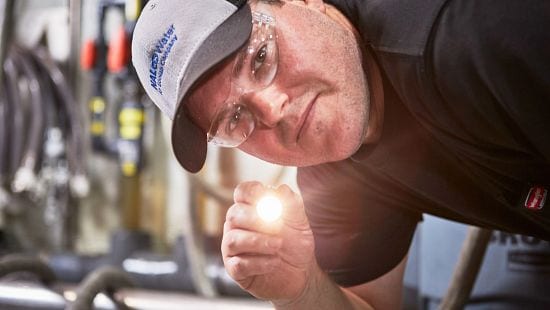 Water Pretreatment Equipment Maintenance
Nalco Water understands that the reliability of your water pretreatment equipment is critical to your operation.
Our water treatment equipment services include preventative maintenance, repair and troubleshooting. We ensure that your equipment is operating at peak performance, and if there is an issue, we determine performance gaps and develop a solution.
We also supply pretreatment parts, media and membranes, including automated valves.
To get the most out of your water pretreatment equipment, partner with Nalco Water and take advantage off our full-service offerings.
Nalco Water Service Experience
Nalco Water will guide you through our equipment maintenance service experience, so you're a part of the process from start to finish.
Review and prepare: Ensuring all required parts and supplies are available at the time of service
Check in and confirm: Check in with customer upon arrival, and confirm any changes or contacts
Walk through and plan: Perform a job-site walkthrough to ensure there are no changes in conditions
Execute the work: Perform work as it appears on scope of work
Complete your personal service report: Capture all appropriate service information and recommendations
Exit interview and signature: Check out with plant contact and review recommendations
Water Treatment Equipment Services
Benefits of Nalco Water's Maintenance and Service Offerings:
Extended equipment life
Improved operational efficiency
Professional, reliable service
Support for your labor force
Expert evaluation and troubleshooting
Minimized downtime
Filtration Media Maintenance
Water quality is directly related to the resin and media in your equipment. Nalco Water has the expertise and resources to rebed your water filter media systems. We can remove existing media from your water pretreatment system and supply/install new filter media, carbon or ion exchange resin. Our trained personnel will complete the entire job, and advise on your media disposal needs.
Expert Service Crews
Our expert service crews can do a complete safety review and inspection of your vessel and vessel internals. All service techs are backed by factory engineers should the vessel need repair or replacement. We build our own line of laterals and distributors and are capable of matching other styles using a variety of materials.
Media Rebed Equipment
Whether a water treatment vessel contains lighter medias such as ion exchange resins or more dense varieties such as manganese greensand, Nalco Water has the equipment to complete the job safely and economically.
Benefits
Resin reconditioning and regeneration services
Resin system rebeds or top-offs
Analytical testing
Bulk tanker empty and fill

Water Pretreatment Services
This is a carousel. Use Next and Previous buttons to navigate, or jump to a slide with the slide dots.

Water Pretreatment Parts and Components
This is a carousel. Use Next and Previous buttons to navigate, or jump to a slide with the slide dots.