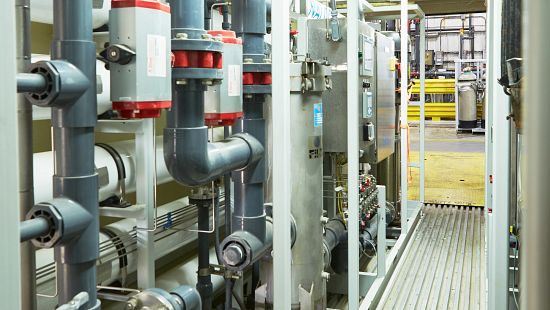 Industrial Water Treatment System Mobile and Rental
Get the water you need when you need it with Nalco Water's industrial water treatment system rentals.
Our rental and mobile water treatment systems ensure that your water supply is uninterrupted and unaffected. They can be used during short-term water shortages, to meet peak demand, while a water treatment system is shut down for repairs or while waiting for a new system to be delivered.
Rental systems are installed on site; mobile systems are in a trailer or container. Both systems are modular and cover a broad range of options, including industrial reverse osmosis systems and DI water equipment rental.
All water treatment system rentals come with Nalco Water's unmatched service and technical expertise.
Mobile Water Treatment Systems
Mobile water treatment systems are large-scale, flexible operations that come in a trailer or container and don't require floor space inside your facility. They are fully automatic and monitored systems that leverage your opex budget and allow flexibility to receive long lead-time systems.
Mobile systems are typically used when:
Existing water pretreatment systems are offline for maintenance
Additional capacity is needed during a plant expansion or construction project
A customer wants proof of concept for water pretreatment systems
Seasonal demand requires higher water use
Nalco Water's modular systems can be virtually any combination of RO, DI, ion exchange or filtration. Our engineers and tech experts design the system to fit your exact water needs and provide service for the life of the rental.
Rental Water Treatment Systems
Rental water treatment systems integrate into your facility, and water is typically available in 4–6 weeks from ordering. Our experts conduct a thorough discovery to learn the water quantity and quality you need, and we provide a solution that includes services, parts and consumables as well as the assets to achieve your goals.
Rental systems can be a temporary or mid-term solution, including an interim state before installing permanent equipment. These systems eliminate the need for capital by delivering an opex solution; flexible contract options are available.
Rental Water Treatment System Modules
RO systems
Service exchange and service DI
Water softeners and ion exchange
Polishers
Carbon and media filters
Service boilers
Service cooling
Side-stream filtration using Ultrasand Plus or multi-media filters
As with mobile systems, rental systems are modular and can be virtually any combination of water pretreatment method. Our engineers and tech experts design the system to fit your exact water needs and provide service for the life of the rental.
Benefits of Renting an Industrial Water Purification System
Unmatched service and technical expertise


Regular preventative maintenance visits
Review of operating data and document service reports
Scheduled filter, media and membrane replacement and probe calibration
Annual performance and business review

Consistent water quality and quantity
High Reliability and 24-hour call number
Flexible finance and contract options
Financially advantageous fixed billing
Low up-front investment/capex

Water Pretreatment Services
This is a carousel. Use Next and Previous buttons to navigate, or jump to a slide with the slide dots.