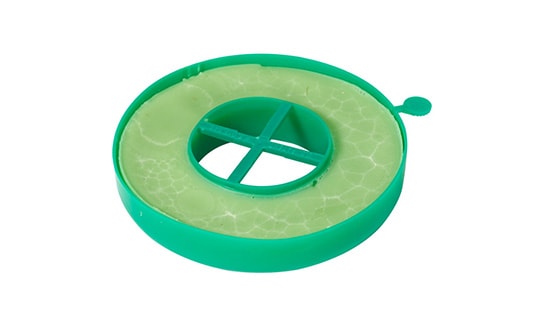 Pathways™

Solid Drain Sanitizer
Ecolab Pathways™ Solid Drain Sanitizer is a patented, water-activated, time-released solid detergent-sanitizer specifically formulated to improve environmental sanitation and control soil build-up in floor drains, troughs and pits, and in drainage areas where wet conditions favor microorganism growth and cause sanitation concern
Features and Benefits
Time-released system provides longer activity and lower use cost than conventional liquid sanitizers
Versatile applications, saves on inventory investment
Reduces need for applications of liquid quat sanitizers
Solid form helps prevent slippery spills or dangerous splashing onto skin
Promotes Quality Assurance
Time-released system provides continuous sanitizing in the presence of water
Helps emulsify soil deposits 24 hours per day, thus reducing build-up between daily cleanings
Design does not obstruct water drainage
Related Personal Care and Cosmetics Solutions
Learn more about how Ecolab's Personal Care and Cosmetics solutions can help your facility produce safe, compliant products that exceed standards, measurably improve operational efficiency and help achieve sustainability goals.
This is a carousel. Use Next and Previous buttons to navigate, or jump to a slide with the slide dots.
No related solution pages were found.